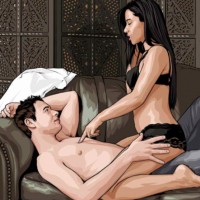 We've all flipped through Cosmo tips on what men want in bed, whether it's a twist of the wrist during a hand job or sexy eye contact during oral sex. Sure, technique is important, but Cosmo's glossing over what guys want more than anything— a woman who is genuinely into sex and knows what she wants. Men don't want you to just go through the motions. No one wants to have sex with a robot (well most people, anyway). Men want a woman who actually wants to have sex, initiates it, enjoys it, and is open to new things.
5 WAYS TO UP YOUR GAME
1. Know What You Want
If knowing what you want makes you better in bed, your first homework assignment is to figure out exactly how you an orgasm (you might want to have three or four orgasms just to make sure you've got your technique down).
It doesn't matter if you've had sex one time or more times than you can count (I mean really, who can keep track?). You need to explore your own body before you can have truly great sex with another person.
Read More

»
Posted by
Lauren
| 1

comments