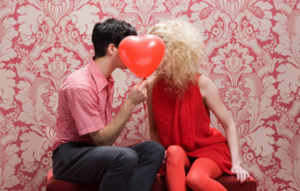 We all dream of surprising that sexy someone in our life with a Valentine's Day gift they've always wanted, but couldn't ask for. We want it to be meaningful and intimate, something more sophisticated than a mixtape but more romantic than, say, a food processor. It has to be something that communicates a very specific message: "I love you, I care about you and I didn't get this 12 hours ago at Target"… You know who you are.
Though Valentine's Day is generally a big holiday for jewelry, clothing and scented toiletries, I personally believe in giving a gift that can provide your partner (and yourself) with more than just a night of pleasure. Candy and cards only go so far, but multiple orgasms? That's a gift she won't soon forget! After all, when was the last time a woman cried out "Oh God, YES!" when receiving a gift card to Nordstrom? Exactly.
Whether you're searching for the perfect present to show your partner how much you love them, or are simply looking to spread the self-love this Valentine's Day, I've got pleasure-packed gifts for everyone on your list!
For the girl who has everything (except a g-spot orgasm):
We've all got that woman in our lives that is SO hard to shop for. Well let me tell you, this is one thing your lady has wanted since she first blossomed into womanhood (or picked up her first copy of Cosmo, whichever came first).. A G-spot orgasm! But since those babies are a little difficult to wrap, you can always gift her with the tool that's sure to get here there: The We-Vibe Rave.
The Rave is a sensually sculpted vibrator that is every bit as powerful as your average wand, but with a twist! It's beautiful asymmetrical design leads directly to your G-spot, while it's soft edges stimulate every inch of the vaginal canal and the 10 preset vibration modes produce powerful pulsations to rock your world. Plus, this amazing vibe can be paired with the WeConnect app on your smartphone, making it the perfect gift for partner play!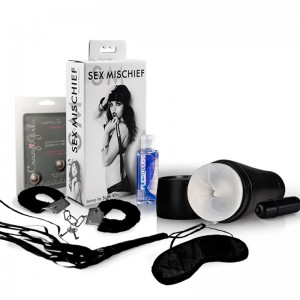 For the curious couple:
Thanks to the rise of the 50 Shades franchise, BDSM seems to be the item on everyone's mind. Since the film's release last year, vanilla couples everywhere have been daydreaming of lip bites and silk ties, red rooms and kink supplies. But while Mr. Grey has a way of making it all look easy, many couples find themselves overwhelmed when trying to bring their kinky fantasies to life. That's why Fleshlight's newest kinky combo pack is perfect for the couples who are looking to explore to their kinkier side!
If your lover's eyes lit up when Christian Grey busted out the blindfold, just wait till they see the Kinky Kit! It comes loaded with everything a couple needs to step up their bedroom routine, including the Fleshlight Flight, a bottle of Fleshlube, a bullet vibrator, CrazyGirl's weighted Pleasure Balls, furry handcuffs, a blindfold and an adorable little flogger. Take turns tying each other up and experimenting with the different sensations!  
For the lube connoisseur:
It's just like I always say — you can never be too rich, too thin or have too much lube! From solo play to foreplay to the most passionate sex sessions, the right lubricant can make every sexual experience exponentially more pleasurable. Unfortunately, not all lubes are created equally. They tend to fall somewhere on a spectrum, from high quality sex gloss to bargain bin jelly, and more often than not, you get what you pay for.
Instead of springing for another designer silk tie, give your guy a gift he really needs: A beautiful bottle of Uberlube. It is my belief that every dude should experience luxury lube at some point in their life, and Uberlube certainly delivers. It's long-lasting silicone formula keeps everything smooth and slick during sex, but never sticky. Plus it comes in an elegant glass bottle that he'll be proud to leave on his nightstand!
For the single gal:
The holidays can be a bit of a downer for the single girl, and Valentine's Day represents the final hump. If she can just make it to February 15th, it's nothing but clear skies and wild nights until Thanksgiving rolls back around. But instead of huddling up underneath the covers and waiting for the winter thaw, why not direct your attention to more pleasurable bedroom activities?
We've all seen that episode of Sex in the City where Charlotte bids adieu to the terrible lovers of her sexual present and surrenders to the orgasmic power of the Rabbit Habit. Well, Vibratex has created another dual-action delight for your self-loving pleasure! The Dahlia is a fun, flirty twist on the popular Rabbit vibrator – It's pink, it's pretty, and it packs a multi-orgasmic punch. The external butterfly appendage flutters against the clitoris while the smooth, rotating head swirls against the G-Spot, providing you with the blended orgasm you've always dreamed of. See you in Spring!
For the guy that loves his doggy style:
It's no secret that every man's favorite position usually involves his partner being down on all fours. Blame it on biology or maybe even pornography, but you can't deny, the majority of men are big fans of doing it doggy style. Unfortunately for their female counterparts, this position is not known for being particularly orgasmic. It's an awkward pose that requires a lot of balance and is not particularly flattering. Plus, at the wrong angle, it can be downright uncomfortable. But since it seems to be every guy's go-to move, women continue to assume the position in the hopes that it will magically hit the right spot. What if I told you that, with one gift, both of your dreams could come true?
Sportsheet's Doggie Style Strap may seem like a gift for him, but don't be fooled ladies — This gift is actually YOUR best friend. It is a strap that wraps around your waist and during doggie style, elevating your hips at the perfect angle for your partner to hit your G-spot during sex. It also takes a lot of the pressure off your knees and lower body, making it both more pleasurable AND more comfortable for you. So he gets to enjoy his favorite position, you get to have a G-spot orgasm… Everyone wins with the gift!

For the master multi-tasker:
When you're a GOTG (girl-on-the-go), you're constantly looking for ways to make things easier, faster and more efficient. That's why you prep all of your meals a week in advance, check your emails every morning while walking the dog, practice pilates in between loads of laundry… The list goes on and on. The point is, when you're as busy as you probably are, things like pleasure tend to take a backseat to more multi-taskable activities. Who has time to lay back and masturbate when they could be doing something productive, like working out? Funny you should mention that..
The Intensity from Pour Moi is the ULTIMATE multi-tasker, in that it is both a rabbit vibrator and a kegel exerciser! No need to feel guilty about those 15 minutes spent on your back, because the whole time you were self-loving, the Intensity was using electrostimulation to work out your pelvic floor muscles. And the benefits? More intense and frequent orgasms, for starters!
Posted by
Madison
| 0

comments