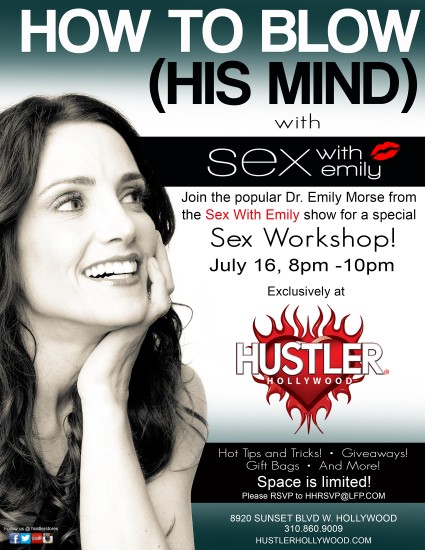 Hello Lovers,
As you know I love finding new ways of exploring sex and helping my listeners achieve the sex lives they deserve! I've had so many requests for a live events and I can't wait to kick this series of workshops off with you!
I'm hosting my first LIVE workshop at the Hustler Hollywood store on Sunset Blvd, July 16th 8pm-10pm!
Come in for a night of educated sex tips, talk and swag and let me tell you, we'll be having a ton of fun! I can't wait to meet all my listeners and answer all of your questions in person!
I'll be giving sexy tips and tricks, gift bags, and giveaways for you to take home and to the bedroom. Let me help you add that extra spark to your sex life! And what better place than the infamous Hustler Hollywood?
****Space is limited!****
Make sure you RSVP at HHRSP@LFP.com to secure your spot!