How do I use a vibrator?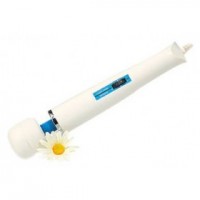 Dear Emily,
I bought the Magic Wand and I'm actually questioning myself! Am I doing this right? It's not working for me.
Thanks!
Monica
Dear Monica,
Sometimes you have to get to know your vibrator before you can get into the right groove. Starting out with a vibrator is sort of like starting an illustrious affair with a new lover. Things can begin kind of clumsy, but once you discover how each others bodies work the sex becomes better, and hopefully orgasmic. 
Luckily for you the Hitachi Magic Wand is one of the most powerful vibrators in the world with the sole purpose of making you orgasm (and pampering you with back massages).
First, make sure that you're applying the wand to your clitoris. Many if not most vibrators are designed for clitoral stimulation and not for vaginal insertion. I recommend clitoral vibrators for everyone's first vibrator.
If you're not sure where you're clitoris is located, get a pocket mirror and take a long, overdue look at your vagina. The clitoris is the the little bump above the opening of the vagina, although many women prefer indirect clitoral stimulation. Here's a helpful map:

The Hitachi Magic Wand is extremely powerful. Start on the low setting and apply the wand either directly on your clitoris or around it. Play around and find what feels best. Consider switching to a higher setting if you want more oomph. But be careful, the pleasure can be overwhelming and the higher setting might be too much for your body.
As far as technique goes, some people find that it feels great to rotate the wand in a circular motion. For a gold star, try to maintain the circular motion while you orgasm– your hard work will pay off.
Others find that it feels great to switch between applied pressure and no pressure at all. Press the wand onto your clitoris for a few seconds and then remove it for a few seconds, and repeat until a mind-blowing orgasm happens.  You choose how long and how  much pressure to apply. Vibrators like the MiMi Rechargeable Waterproof Vibrator and Mystic Wand Vibrator (the sexy granddaughter of the Hitachi Magic Wand) serve a similar purpose by offering different pulsation patterns. 
When the waves of pleasure hit you unexpectedly, it's easy to stop functioning completely. But don't forget to breathe. Inhale while you apply pressure and exhale when you remove the vibrator from your clitoris, or vice versa. No matter what technique you use with your Hitachi, focusing on your breath will help you have more intense orgasms. 
Remember, everyone's body works differently. The key to vibrators, and sex in general, is finding what works best for you.
If you find that the Hitachi Magic Wand isn't your cup of tea– even though it's a Long Island Iced Tea in my book– there are other vibrators waiting for you.
If you're not exactly sure what you want, the talented and knowledgeable people at Good Vibrations will help you out. I got my first vibrator there– a hot pink Pocket Rocket. If you live in the Bay Area visit one of their five stores, and get non-judgemental answers to all your embarrassing questions. Or if you're ordering online you can check out their product guides and talk to one of their person shoppers. 
With a little help you can figure out what you need, whether it's something more aggressive like the Hitachi Magic Wand or something more docile and discreet like the Pocket Rocket. After all, vibrators are like lovers– they are all different and sometimes it's more fun when you have lots of them. 
xxx
Emily