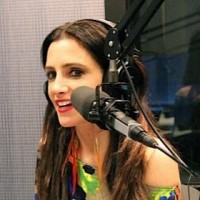 Questions I answer on this podcast: Are you bicurious? Should you give up your marriage because you aren't having sex? What happens when his baby mama catches you having sex with with him in his trailer? How do you date if you have social anxiety? Should you tell women they are beautiful when you first meet them? Why do some people seek relationships with people who are unobtainable?
A highlight from the show: Beautiful Girls, Bicurious Men, and Baby Mamas
Hi Emily,

I love your personality and think you have a great voice for radio.  I listen to you on Loveline and love the chemistry between you and Mike.  Awesome.

I have something I am struggling with.  When I see beautiful girls, I like to tell them they are beautiful.   I am just trying to flatter girls so they like me.  But recently I heard that this simple statement of flattery means something totally different to women.  What I heard is that the women take it as a power dynamic and they find it demeaning.  I don't quite understand this reaction, but as a typical guy it does not make sense.  Isn't telling a girl that she is beautiful a good thing?

Your fan,

Daniel

Emily: Daniel, wonderful question. Here's the issue. If you tell a woman she's beautiful, she assumes you just want to sleep with her. She already thinks you want to sleep with her, even if you just said "Hello." Calling her beautiful right of the bat is objectifying her. She's probably been called beautiful a lot, and it is a turn-off for a lot of women. Maybe if you've been dating for a while, or on the first date you can say, "I think you're really pretty." But your first opening to a woman, if you're just meeting her, should be an observation, like " I love the Pumpkin Spice Lattes  from Starbucks" or, "I read that book, it's an amazing book."  It's not Rocket Science. Tell a woman she's beautiful and she thinks you just want to bone her."

Anderson: Calling someone beautiful l shows no initiative or creativity. You can tell them they are pretty with your eyes. Not in a lascivious fashion, but if you keep eye contact with her she's going to know you think she's pretty.