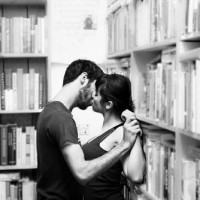 Emily shares the best places to meet someone, because sometimes it feels like there's no one to meet anywhere.
If you want to meet someone, get ready to drink a lot of coffee, get sweaty, and climb a mountain! You will be rewarded with lots of sex (hopefully).
Emily also gives relationship advice with Dossie Easton, author of the Ethical Slut. People jump from one relationship to the next, without giving themselves time to grieve the person they broke up with. How long should you let yourself cry over your ex before moving on?
If you're single and dying to be in a relationship, what's blocking you from getting in one? Where are the best places to meet someone you can connect with?
If you've been married for a long time,  how do you get your sex life back? You need to make room for pleasure and fun in your life. It's as if people don't even think they deserve to feel good. But you do!
Write down the best sex you and your partner have ever had with each other (NOT to be confused with the best sex you've had with your ex). What made it so good? Talk about it, because talking about sex is kind of awesome. Tell your partner your fantasies. Don't worry, fantasies tend to be pretty juvenile. Your fantasy probably isn't as sophisticated, unique, or clever as you want it to be. As much as you hate to admit it, you're  an animal!
Remember, the two hardest things to talk about in your relationship are probably sex and money. But intimacy is based on shared vulnerability. Start communicating so you can get what you want from your relationship.
Special offer for my listeners of Best Places to Meet Someone