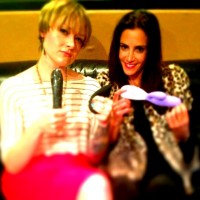 I'm talking about my favorite topic- masturbation and the 
best sex toys
 for men and women. In a word filled with crazy, awesome, vibrating sex toys, it can be hard to choose a sex toy. Are you a clitoral stimulation kind of a girl or a G-spot gal? Are you a size queen or are you looking for something cute and discreet? Do you want a couples toy or do you want it all to yourself? Of course, sex toys aren't just for the girls (check out the
Fleshlight
guys!). My guest, Sex Toy Expert Anne Hodder, and I discuss some surprising ways men enjoy the vibrations too, and how they can use sex toys on their partner. Anne and I have tried and reviewed hundreds of sex toys so we can tell you the best sex toys for your preferences and needs. You're welcome. I do it all for you… and the orgasms. 
You can get almost all the vibrators we discuss on the show at
Good Vibrations
.  Anne and I agree that one of the best vibrators for couple play and solo play is the 
Je Joue MiMi
, and the best sex toy for men is the 
Fleshlight
. If you're looking for great G-spot action or anal play, 
NJoy
 is simply the best. Get them all at 
Good Vibrations
 and 
Fleshlight
 .