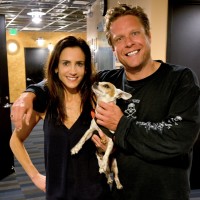 On this week's podcast, Emily's answering your questions with her buddy Anderson, host of The After Disaster podcast. Emily and Anderson get into manscaping, sugar daddies, and how to gracefully exit a bad date.
Emily gives advice on having a successful threesome, sexual pleasure on the road and how to find the penis ring that's right for you. Emily also answers a callers question: Is it possible to create a monster after introducing a 'Vanilla' partner to kink? 
Have you heard of the "horsey horse" sex position? We hadn't either until the last phone call!
Ever wonder what Emily would do if she had a penis for a day? Anderson shares an embarrassing story from his youth and he also exposes Emily to the adorable sounds of turtle sex.
This Friday the 13th episode is dedicated to solving that mystery and more!
Can't get enough Sex With Emily?
Subscribe on iTunes and never miss your bi-weekly Sex Ed Podcast.