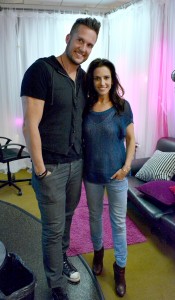 On today's show Emily sits down with Garren James, the founder of Cowboys4Angels, a male escort service for straight women. The service has become so successful that Showtime's hit series Gigolo is based on his business.
Why would women pay for a date with a hot, hunky, educated man? The service is for straight, successful, busy women who are looking for the "boyfriend experience" on their time and their terms. Garren explains that it's not about sex, it's about companionship with a man who knows exactly how to treat a woman right.
But what do these men have to offer that other men can't seem to provide?
The escorts know how to treat a woman right by providing companionship, excitement, and most of all making her feel beautiful and desired. The escorts must have swagger, education, good looks, and preternatural charm. Garren divulges tips for all men who want to become the object of every woman's fantasy. They discuss what Garren looks for in his employees, right down to the grooming tips and etiquette. As the conversation grows, Garren comes up with an interesting proposition for Emily. Check out the show to find out more!
Special discounts for listeners of Sex With Emily:
Use coupon code GVEMILY20 for 20% off at Good Vibrations.
Use coupon code EMILY25 for 25% off at Crazy Girl,
and coupon code EMILY for 20% off my Aromatherapy Massage Candle and DownUnder Comfort at Emily & Tony.
Go to Promescent to make love longer.
Increase your stamina with the #1 selling sex toy for men, Fleshlight.