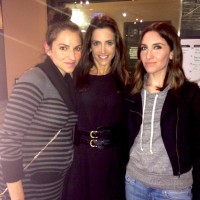 If you're still figuring out how to flirt, you're not alone. WingGirl Marni Kinrys and Comedian Kristen Carney from the Ask Women Podcast join me on the show to breakdown the art of flirting.
Marni is a professional wing girl- she teaches men how to flirt and start successful relationships. She reveals secrets from her Wing Girl Method, which will make women want you.
Kristen is a professional sketch comedienne, actress and host whose work has apperead on Comedy Central, Funny or Die, TLC and her new YouTube channel: See You Next Tues Comedy.
So many men fall into the dreaded "Friend Zone" because they're nervous and will agree with everything women say instead of setting themselves apart as an interesting person. Don't be afraid to challenge women's viewpoints. Speak up when you have an opinion. After all, it's not called witty banter for nothing. Women truly value personality more than looks. A conventionally unattractive man can become sexy with a great personality and confidence. 
You'll learn how to show a woman the best version of yourself on this show. 
This podcast isn't just for the men, Kristen and Marni also give advice to women. Find out what guys you should give a second chance and which guys deserve to get booted.
Finally, we all talk about sex! After you learn how to flirt, you're going to want to learn how to properly seal the deal.
Want to learn more about Marni's Wing Girl Method for making women want you? Check this out: Marni's Wing Girl Method.
Special Discounts for listeners of How to Flirt:
Use coupon code EMILY for 15% off at Good Vibrations. Use coupon code EMILY25 for 25% off at crazygirlproducts.com, and coupon code EMILY for 20% off my Aromatherapy Massage Candle and DownUnder Comfort at Emilyandtony.com. Also, check out my new vibrator store: www.sexwithemilyovo.com/! Go to Promescent to make love longer.