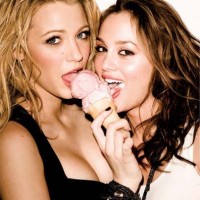 Do you know how to lick it? A guy calls into the show for some advice on how to perform cunnilingus. He realizes that every woman is different and he shouldn't go straight for the clitoris, but wants to know the specifics. I share step-by-step instructions on how to lick it.
Also, do heels prevent women from having orgasms? Does sitting in chairs turn you on? Is the clitoris actually bigger than the penis? Are single people more prone to accidental death (most depressing study ever)? Does having a hang-over make you want to do it, or just curl up in the fetal position and question your existence? Some food for thought while you're waiting for your main course of the show. Cunnilingus, it's what's for dinner.
Image from Rolling Stones Magazine.
Special Offer for listeners of Sex with Emily: How to Lick It
If you want to change your love life check out: Emily and Tony, Promescent, Crazy Girl, Max4Men, Masque, and Good Vibrations.
Emily and Tony is a premium, intimate personal-care brand that believes intimacy should be fun, flirty, sensual and natural. Our products: Aromatherapy Massage Candle, Personal Naturally Hydrating Lubricant, and DownUnder Comfort for your balls or boobs. Use coupon code EMILY for 20% off your first purchase at Emily and Tony.
Use coupon code EMILY25 at checkout for 25% off your purchase at Crazy Girl and Max4Men.
Use coupon code GVEMILY20 at checkout for 20% off purchases of $100 or more at Good Vibrations. Or use coupon code EMILY for 15% off anything at Good Vibrations.