On this podcast we have the tattoo'd darling of the adult industry, Miss Joanna Angel, back in the studio to educate us on all things SEX. Joanna shares tips learned on the job, from tricks to taking the sexiest selfies to how to make a woman REALLY moan!
Joanna and Emily talk firsts: First sexual encounters, first orgasms, first girl crushes and more! They swap stories of one-night-stands gone wrong, and sex so bad, it makes you wish you had stayed home and ordered a pizza!
What's this sexy lady's favorite porn to shoot? Well, she really can't resist a nice, thick… PLOT!
They also answer listeners emails: How do you tell your guy he's bad in  bed? Joanna and Emily  help one listener take control of her own sexual destiny, and cultivate confidence in the bedroom. Not getting the sex you want? Joanna's advice: "Sit on his face!"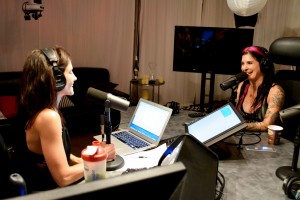 This show addresses the hard-hitting questions: What's so sexy about a girl with tattoos? What's the recipe for a really GOOD threesome? And what makes Joanna a "bad bisexual"? All this and more in the most recent installment of Sex With Emily!
Special discounts for listeners of Sex With Emily:
Use coupon code GVEMILY20 for 20% off atGood Vibrations and coupon code EMILY for 20% off my Aromatherapy Massage Candle and DownUnder Comfort atEmily& Tony
Go toPromescent to make love longer.
Increase your stamina with the #1 selling sex toy for men,Fleshlight.
Stop byHustler Stores in Hollywood or the closest store near you for all your kinky needs- Don't forget to mention "Sex With Emily" at the counter for 20% off your purchase.