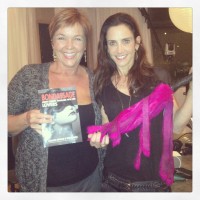 Pro Dominatrix and Author Jaeleen Bennis shows you the ropes to bondage play and kinky massage with your partner. She mixes massage with bondage, teaching couples how to have more adventurous sex with her special technique, bondassage.

Start by lighting up my 
Emily & Tony Massage Candle
 (when lit it turns into the most luxurious, warm massage oil ) and pour it onto your partners body. Relax them with a back massage… and then the real fun begins. Bring out the straps and floggers, and start exploring your partner's erogenous zones. We explain how you can tell if your partner likes what you're doing. Hint: If their toes are moving around like crazy, you're doing something right.
Jaeleen also gives tips on how to give men an anal massage. Gentleman, it's time you invited someone into your backdoor.
Remember to always establish a safe word like "pickle" for when things get out of hand.
Special Offer for listeners of Sex with Emily: Kinky Massage
If you want to change your love life check out: Emily and Tony, Promescent, Crazy Girl, Max4Men, Masque, and Good Vibrations.
Emily and Tony is a premium, intimate personal-care brand that believes intimacy should be fun, flirty, sensual and natural. Our products: Aromatherapy Massage Candle, Personal Naturally Hydrating Lubricant, and DownUnder Comfort for your balls or boobs. Use coupon code EMILYfor 20% off your first purchase at Emily and Tony.
Use coupon code EMILY25 at checkout for 25% off your purchase at Crazy Girl and Max4Men.
Use coupon code GVEMILY20 at checkout for 20% off purchases of $100 or more at Good Vibrations. Or use coupon code EMILY for 15% off anything at Good Vibrations.