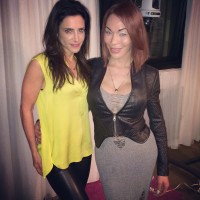 Mia Isabella is a transexual porn star with a lot of great sex advice. She's known as the "Cutest Little TS Chick with the Biggest Candy Stick." How big is Mia Isabella's Candy Stick? 10-inches long. Mia Isabella is a transexual that dates straight men. Most people are under the misconception that only gay men date transexuals. Mia Isabella does not define her sexuality in such narrow terms.  She answers questions on the show about her sexual identity, dating, and of course- sex.
Questions Mia Isabella answers:
When did you realize that you identified as a female?
What was it like growing up as a transexual?( For those of you who don't know a transexual is a person who feels that they belong to the opposite sex. )
What was your first sexual experience like?
Have you ever had sex with a woman?
 Can you describe how sex is different for you than other women?
Has it been difficult to find men to date?
Has it been difficult to openly date men?
When did you get your breast implants?
Did you ever consider getting surgery on your bottom?
How did you get in the porn industry?
What kind of porn do you do?
What challenges have you faced in the adult industry?
 Are you more of the dominant or submissive in the bedroom?
 What is your advice for being the dominant or submissive?
 What's your sex advice for women? What about for men?
 What's your number one Blow Job tip?
 What's your favorite sex position?
 Can you describe one of your best sexual experiences. What made it so great?
Special Discounts for listeners of Mia Isabella – Transexual Porn Star:
Use coupon code EMILY for 15% off at Good Vibrations. Use coupon code EMILY25 for 25% off at crazygirlproducts.com, and coupon code EMILY for 20% off my Aromatherapy Massage Candle and DownUnder Comfort at Emilyandtony.com. Also, check out my new vibrator store: www.sexwithemilyovo.com/!