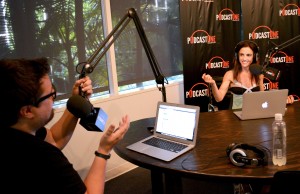 Emily shares four important steps for overcoming jealousy. You can get past jealousy in most situations if you can let go of your insecurities. (Unless they really are cheating on you with that young thing down the street).
Also…
Find out why she's really moaning during sex. Is it because you're a sex God? Or is she just faking it? Do shiest people really moan the loudest?
Is there a platonic dating site for those who don't want to get down? What if you just want to ride bikes with someone instead of riding that someone?
What do say on your first online dating message (no, "hey baby I want to wear you like a crown" is not a good first message. Nice try).
How to deal with body image issues, because you're fabulous and everyone should know it. Start walking around the house and winking at yourself in the mirror!
The point of this show is to help you get past your insecurities. Everyone is insecure about something, whether it's how much money you make or thighs that jiggle. But you don't have to let your insecurities rule their life. If you want to have an amazing sex life and relationship, you have to get over your fears and put yourself out there. Overcome jealousy and body insecurities! Moan if you like the sex, and write that first online dating message finally! If you're confident, love yourself, and communicate your desires, you will become someone people want to be with.
Special offers for listeners of Sex With Emily
Use coupon code GVEMILY20 for 20% off at Good Vibrations and coupon code EMILY for 20% off my Aromatherapy Massage Candle and DownUnder Comfort at Emily& Tony
Go to Promescent to make love longer.
Increase your stamina with the #1 selling sex toy for men, Fleshlight.
Stop by Hustler Stores in Hollywood or the closest store near you for all your kinky needs- Don't forget to mention "Sex With Emily" at the counter for 20% off your purchase.