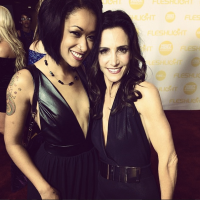 Porn Star Skin Diamond dishes about having sex like a porn star… and having sex like a cat. You'll have to listen to the show to hear about her sexual kitty play.
Skin Diamond grew up in Scotland with a passion for Christianity and a huge crush on Jessica Rabbit. Although she no longer believes in organized religion, her love for the female form developed beyond cartoons. Skin Diamond identifies as bisexual and has a rare ability to orgasm on command (perfect for porn!). Skin Diamond proves that not all orgasms in porn are fake. 
She explains how she orgasms by doing Kegel exercises and how to make your orgasms even stronger by changing the way you breathe.
After she satisfies all your orgasmic needs, she doubles the fun with a lively discussion on double penetration (DP). Last but not least, Skin Diamond tells you how to handle a gigantic penis.