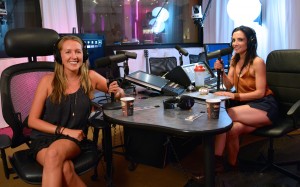 Social media is here to stay but how is it affecting your relationships?. In the studio tonight is freelance writer Annie Daly who lends her expertise on sex, dating, health and millennial trends for New York Post, Women's Health, SELF, Elle, Shape, Health and Time Out New York to name a few.
Emily and Annie talk about why social media does matter (even if you dislike it), Generation Validation and the rules of online dating. But first, will Anderson give up what he's learned from Sex With Emily that's made his wife happy in the bedroom?
You might love social media but it is ruining your dating life? Have you been #Ghosted? What does "like" even mean? How has the internet affected your relationship? And will it bring you together or swipe you into oblivion? Emily and Annie talk about how "Premature Escalation" is something you should avoid before the first date. Emily shares need-to-hear stats on social media, relationships and sex that will surprise you.  Plus how social media is not only speeding up the courtship process but also getting people to have sex sooner than later. Have you been a victim of mass booty-texting? Emily and Annie share stories on Generation Validation: Is everything online seeping into our real lives? The two talk about the need we have for affirmation and how it drives our actions (inappropriate or not). Plus, what's the difference between healthy and unhealthy posting?
Emily and Annie tackle other topics including unconventional dating sites and apps that actually help you find love, how to identify the winners online and what kind of text it took to take Emily away from oral sex. Annie shares stories from her time as a reporter, the New York dating and how writing about love and sex for Cosmo changed the way she handles relationships.
While covering Tinder territory, Emily and Annie discuss Annie's surprising Tinder experiment, Tinder "binges" and how Tinder might be better for you overseas. Emily wraps things up by answering a listener's question about snooping and how reading your partner's texts will always turn up something that will bring you down.
Can't get enough SexWithEmily?
Subscribe on iTunes and never miss your bi-weekly Sex With Emily podcast…
Special discounts for listeners of Sex With Emily:
Use coupon code EMILY for 20% off at Good Vibrations and coupon code EMILY for 20% off my Aromatherapy Massage Candle and DownUnder Comfort at Emily& Tony.
Go to Promescent to make love longer.
Increase your stamina with the #1 selling sex toy for men, Fleshlight.
Stop by Hustler Hollywood Stores everywhere for all your kinky needs- Don't forget to mention "Sex With Emily" at the counter for 20% off your purchase.