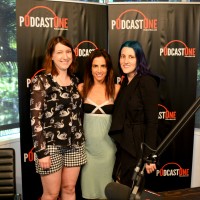 Emily and Menace are back in the studio and cover a lot of ground from body image to sexuality to learning to love the blow job, this Podcast is sure to educate and entertain you.
The two catch up on recent developments, including Menace's visit to the Taco Bell mecca and the blessed return of Emily's Facebook page. Wondering what caused our three week Facebook hiatus? Emily explains her struggle with social media censorship.
Also in the studio are Cyan and Nadya of Zivity.com, here to talk erotica, photography and body positivity, among other things. Zivity is an erotic photography website for real people, where models, photographers and fans alike can enjoy and appreciate the art they love.
Zivity features beautiful photography with a  wide range of fantasies and scenarios. Want to know the most popular themes? The ladies of Zivity dish on the hottest sets, costumes and fantasies. And speaking of costumes- Emily and Menace's Hamburglar debate comes back into play! Would Emily "Hamburglar-Suit Up" for her dream man? The answer is still… No!
Cyan and Nadya talk issues with nudity in our society, including social media censorship and the "Free The Nipple" movement.
Next the gang moves on to some listener emails! Emily and her trusty round-table advise a woman with a sensitive clitoris. They also help a listener conquer her dislike of semen so she can give her boyfriend the best BJ ever, which spurs a lively group discussion on spitting versus swallowing. In other news, anal pleasure month is coming – Are YOU ready?
Can't get enoughSexWithEmily?
Subscribe on iTunes and never miss your bi-weekly Sex With Emily podcast…
Special discounts for listeners of Sex With Emily:
Use coupon code GVEMILY20 for 20% off atGood Vibrations and coupon code EMILY for 20% off my Aromatherapy Massage Candle and DownUnder Comfort atEmily& Tony.
Go toPromescent to make love longer.
Increase your stamina with the #1 selling sex toy for men,Fleshlight.
Stop byHustler Stores in Hollywood for all your kinky needs- Don't forget to mention "Sex With Emily" at the counter for 20% off your purchase.