Ask Emily- "How do we find someone for a threesome?"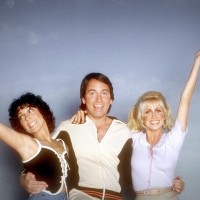 Dear Emily,
Thank you so much for all of the hard work you put into the show! I listen religiously on my Stitcher app, which is ironic because it's pretty much the only thing I'm religious about.
Anyway, my question is in regard to "finding a third". I, a 23-year-old bi woman, and my boyfriend, a 25-year-old straight man, would like to spice things up a bit…We have fantastic sex and we can openly talk about just about anything, including our mission to invite another woman into the mix. We are open to a relationship with said "third", but at the moment we would like a more casual experience.
The problem is that we are having a pretty difficult time finding a woman who would be up for it. We live in Boston which, despite the generally liberal atmosphere, is still pretty sex-negative and most people are pretty closed off to sex in this sense.
Do you have any suggestions about a better strategy in meeting someone organically? (adult friend finder and craigslist just won't fly for us)
All the best,
M & B
Dear M & B,
I usually warn couples about the challenges having a threesome could bring to the the relationship, but it seems like you and your boyfriend are open, communicative and ready to fulfill your fantasy.
I still have to remind you: before you invite a third into the bedroom, make sure you are clear about what you want to go down. Do you want to get to know the person a little before your rendezvous ? Or do you want to interact with the third strictly in a sexual context? Discuss how you imagine your perfect ménage à trois unfolding. Of course things never turn out exactly how you expect them to, but if you have a clear idea of what you want, and establish boundaries for the night,  the threesome has a better chance of going smoothly.
Now you're ready to find a third. Instead of going to sites like Craigslist or AdultFriendFinder, search for prospective thirds on OkCupid, a dating site that specializes in casual relationships. Both of you should set up  temporary OkCupid profiles. Answer questions (especially the questions about sex), post pictures of the two of you together, and start searching for your threesome dream girl.
Pay close attention to how your prospective lovers answer questions about sex, such as: "While in the middle of the best lovemaking of your life, if your lover asked you to squeal like a dolphin, would you?." Alright maybe that's not the best example, but you should research what they like and how open they are to trying new things. If they prefer gentle lovemaking, and you and your boyfriend like rough sex, you're going to have a problem. Try to find someone who is sexually compatible with both of you, but isn't necessarily extremely compatible with you in other ways.  You're looking for someone to fulfill a sexual fantasy, not a new roommate.
After you find a handful of candidates, start messaging the thirds. Be straightforward and respectful about what you are looking for. People are tired of getting sexually explicit messages on OkCupid. Start by telling them a little bit about you and your boyfriend. If you want them to jump in bed with you, you're going to have to make them feel comfortable first. Make the message personal by responding to something you saw on their profile. Perhaps you're both big fans of Game of Thrones. Then get into why you're messaging this person.
You're probably going to have to message a bunch of people before meeting a suitable third. But hopefully all the hard work will pay off when you're all in bed together.
xxx,
Emily