What's Your Fantasy?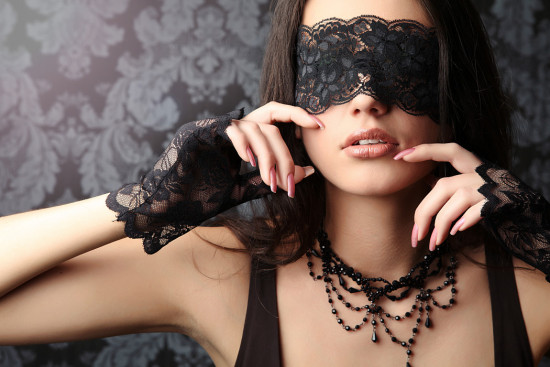 What's your hottest fantasy?
If someone were to ask you this question out-of-the-blue, you would probably find yourself feeling a bit taken aback. The reason for this is, fantasies are something we just don't talk about.
Despite the fact that everyone fantasizes—yes, I mean everyone—many of us still see our own fantasies as too weird, too perverse or too personal to disclose, even with our longtime partners. In fact, if you were to poll a number of your closest friends, a lot of them would probably deny fantasizing at all… Sounds like a bunch of fantastical fibbers, if you ask me.
We all have those X-rated places that our minds wander to from time to time. We all have desires that we feel embarrassed about, or that we're too afraid to fully explore. We all worry that the things we're into could be considered abnormal, strange or taboo. But an important thing to keep in mind is, the majority of those "too perverse to share" desires are probably not so perverse after all.
According to a 2014 study in the Journal of Sexual Medicine, you'd be hard-pressed to find a fantasy that wasn't shared by at least a couple of your peers. From mutual masturbation to sex in public to getting busy in a gaggle, people are all over the map with what turns them on…. Which means whatever risque reflections have crossed your mind, you have NOTHING to worry about.
You know how I'm always saying that the brain is the largest sex organ? Well fantasizing is one of the best ways to stroke that organ! Sexual fantasies play a huge part in our sexual fulfillment;. through fantasizing, we are able to safely explore our deepest desires, play out our sexiest scenarios and really figure out what makes us hot. And if you're looking to turn up the heat in your sex life, fantasizing is a great way to start!
In keeping with our month-long theme of taking the "freak" out of freaky sex, it's time to really let loose with your fantasies—and I want to help you get more comfortable with sharing them.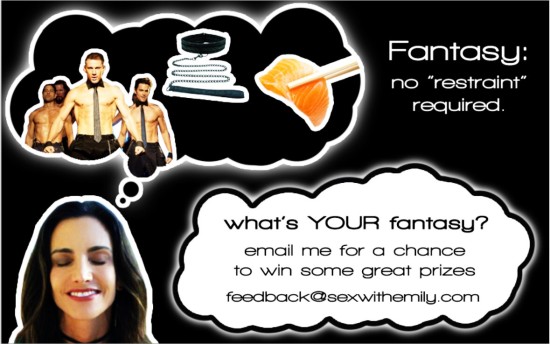 Whether you've already got a fully-stocked library of intellectual erotica or could use a little inspiration to start your spank bank, I want to know what turns you on! Send your hottest fantasy (you know, the one that gets you in the mood every time) to Feedback@SexWithEmily.com. And don't hold back—It can be as kinky, sensual or raunchy as you like, as long as it's all yours! At the end of the month, we'll select a few of our favorites to win some very sexy prizes, including the Magic Wand Original, something from Sportsheets' new Midnight Collection or one of my other favorites! 
So seriously, what's your fantasy?
Can't wait to hear from you…
Xxx
Emily