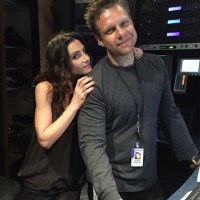 In the latest Sex With Emily podcast, we're tackling some of your most personal sex concerns.  How do you take your sexual adventures to the next level? When do you tell your partner about your virginity? Do women REALLY care about circumcision? Emily answers these questions and more in listener emails.
First though, Emily and Anderson talk about her recent Mexican vacation and the prospect of Venice Beach becoming nude-friendly in the near future!  Also, May is International Masturbation Month! Emily makes a month-long goal of achieving the elusive nipple orgasm in celebration of this self-loving month!
In the news, we find some interesting studies about the different ways that music affects our sexual mood.  What do different genres do to us sexually? Also, everyone knows there are plenty of online dating faux-pas nowadays; Emily and Anderson go through the 10 worst, most cringe-worthy, awfully repelling online dating phrases.
So you've begun to experience adventurous sex. What are the next steps to keeping it fun and hot after you've started? Are you worried that your uncircumcised penis deters women from sleeping with you? Is it all that bad being a virgin at 25? Emily uses her personal experiences and expertise to calm these listeners' worries and answer their sex questions. She also falls into a sexual innuendo hole while answering one of them!  From the perks of being a hot chick, to month-long nipple orgasms, this episode of Sex With Emily is not one to miss!
Can't get enough SexWithEmily?
Subscribe on iTunes and never miss your bi-weekly Sex With Emily podcast…
Special discounts for listeners of Sex With Emily:
Use coupon code Emily for 15% off at Good Vibrations and coupon code EMILY for 20% off my Aromatherapy Massage Candle and DownUnder Comfort at Emily& Tony.
Go to Promescent to make love longer.
Increase your stamina with the #1 selling sex toy for men, Fleshlight. Use code: Emily to get a FREE bottle of Fleshlube with your purchase.
Stop by Hustler Stores in Hollywood or the closest store near you for all your kinky needs- Don't forget to mention "Sex With Emily" at the counter for 20% off your purchase.