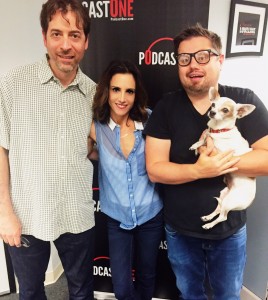 On today's show, Emily welcomes comedian, actor and author of "Maybe We'll Have You Back: The Life of a Perennial T.V. Guest Star," Fred Stoller, to the studio. You may have seen him on Everybody Loves Raymond, Friends, Seinfeld and countless other T.V. shows and films spanning the course of a long and diverse acting career, but now it's time to get to know Fred intimately. He, Emily and Menace talk about sex, dating and the funnier things in life, and discuss what it's really like to be always the bridesmaid, never the bride.
A self-proclaimed late bloomer and a bit of an underachiever, Fred opens up about his career-long struggle of being the perfect peripheral character on (and off) screen, especially when it comes to sex and dating. In between jokes and hilarious anecdotes, Fred shares some of his dating anxieties, makes sexual confessions and teaches us what he's learned about cultivating your self-confidence with the opposite sex.
Then Fred helps Emily answer some of your listener emails! Are you feeling resentment about a threesome proposal taken off the table? Is a sexual fantasy worth putting your relationship at risk? Or maybe you're married and engaging in dangerous office flirtations. How do you stave off attraction from an eager admirer?  The gang discusses how to handle these complicated relationship problems, and also how to handle your virginity when you're finally ready to kick chastity to the curb and embrace the casual sex scene.
If you've ever felt too awkward to date, or insecure in the world of sex and relationships, this show is here to give you hope, or at least someone to laugh along with. Don't miss it!