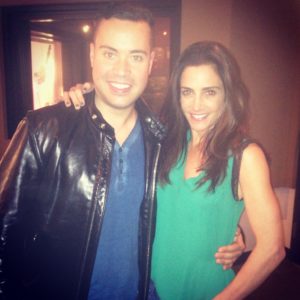 On today's Best Of podcast from 2013, Emily talks sexual confidence and charm with dating coach and Art of Charm co-founder Jordan Harbinger. Whether you're looking to expand your social network, increase the success of your business ventures, or blossom into the ladies' man you always knew you could be, Jordan gives step by step advice to help achieve your gentlemanly goals.  
Confidence is one of the most universally attractive qualities in the dating world, and Jordan has tips to help you hone in on your own sense of self-assuredness. Most men take the safe route and approach dating with the mindset of avoiding rejection, but with low risk comes low reward. Don't be the creepy guy lingering by the bar bathroom because you're afraid to approach a woman when she's with her friends. Just "mayor-walk" up to her and start a conversation (Jordan will tell you what to say).
Once you've got a woman interested…then what? Jordan provides advice to help you avoid the worst first-date faux-pas and tells you exactly what to do to make a good impression. How much touching is too much touching? Do you HAVE to pay for everything? To sext or not to sext? Jordan is here to clue you in on all the pitfalls and must-haves of a successful dating routine.
If you're interested in locating your missing sex appeal, then this classic podcast is definitely the one to revisit. With the right tools and the right mindset, every man has the ability to charm a lady's pants off, and that's exactly what this show has to offer. Tune in!
Can't get enough SexWithEmily?
Subscribe on iTunes and never miss your bi-weekly Sex With Emily podcast…
Special discounts for listeners of Sex With Emily:
Use coupon code Emily for 15% off at Good Vibrations and coupon code EMILY for 20% off my Aromatherapy Massage Candle and DownUnder Comfort at Emily& Tony.
Go to Promescent to make love longer.
Increase your stamina with the #1 selling sex toy for men, Fleshlight. Use code: Emily to get a FREE bottle of Fleshlube with your purchase.
Stop by Hustler Stores in Hollywood or the closest store near you for all your kinky needs- Don't forget to mention "Sex With Emily" at the counter for 20% off your purchase.