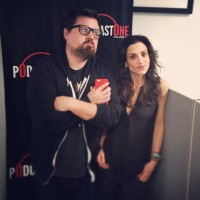 This episode of Sex With Emily is about all different kinds of sex. From threesomes to sex with friends to sex with your boyfriend's friends, Emily guides us through the in's and out's of these different sexual endeavors.
Is a dreaded Ikea trip in your relationship future? Have you tried using sex to reduce stress? Are you horny and having trouble letting go of a lost loved one? Well, you're in luck! All these topics are tackled this week in Sex in the News. Emily and Menace share thoughts on a study that claims Ikea is bad for your relationship, another that addresses the benefits of different sex positions to reduce stress, and of course, the invention of a DILDO-URN! That's right, there is now a dildo that you can store your loved one's ashes in. Imagine that…
Emily gives some pertinent advice to a kinky couple about condom etiquette in a threesome – Just be safe all around! Emily helps another listener with a gag reflex problem, and another still who has a problem with infidelity. Also, how do you initiate sex with your friends? Have you ever "swiveled and screwed?" Can women be bad in bed? Get the skinny on sex with a woman on top and so much more on this week's episode of Sex With Emily!
Can't get enough SexWithEmily?
Subscribe on iTunes and never miss your bi-weekly Sex With Emily podcast…
Special discounts for listeners of Sex With Emily:
Use coupon code Emily for 15% off at Good Vibrations and coupon code EMILY for 20% off my Aromatherapy Massage Candle and DownUnder Comfort at Emily& Tony.
Go to Promescent to make love longer.
Increase your stamina with the #1 selling sex toy for men, Fleshlight. Use code: Emily to get a FREE bottle of Fleshlube with your purchase.
Stop by Hustler Stores in Hollywood or the closest store near you for all your kinky needs- Don't forget to mention "Sex With Emily" at the counter for 20% off your purchase.