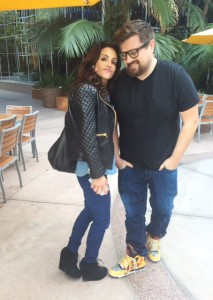 In this podcast, Emily answers some of your top sex and relationship questions. Today's topics include open relationships, bondage, exes and yet another question (or two) on anal play! Plus, a lively discussion on the rising trend of college webcam girls, a firsthand lesson in Sexting with Emily and a story of how oral sex is saving lives.
From public indecency to Penthouse star, Emily and Menace discuss Kendra Sunderland AKA the latest "cam girl" Cinderella story. Is webcamming the new American dream?
Also, one species of spider has discovered yet another amazing benefit of oral sex! Turns out feisty females are less likely to get aggressive with their partners after they've been pleased orally.. Yeah, that's not just spiders guys.
Then it's on to your emails! Emily cautions a listener against trying an open relationship to save a marriage, and shares tips on how to introduce bondage with a new lover. She and Menace field a question from "Husband of the Year" on how to please his partner during "that time of the month", and also tackle a question on ex-communication: How long should you wait to be friends with an ex?
Whether you're hoping to spice your sex life up with something new, trying to please the one you love or just trying to pay your way through college, this podcast has the tips you need! Don't miss it..
Can't get enough SexWithEmily?
Subscribe on iTunes and never miss your bi-weekly Sex With Emily podcast…
Special discounts for listeners of Sex With Emily:
Use coupon code GVEMILY20 for 20% off at Good Vibrations and coupon code EMILY for 20% off my Aromatherapy Massage Candle and DownUnder Comfort at Emily& Tony.
Go to Promescent to make love longer.
Increase your stamina with the #1 selling sex toy for men, Fleshlight. Use code: Emily to get a FREE bottle of Fleshlube with your purchase.
Save 10% off beautiful high-quality sex toys at Je Joue when you use code: Emily
Stop by Hustler Stores in Hollywood or the closest store near you for all your kinky needs- Don't forget to mention "Sex With Emily" at the counter for 20% off your purchase.