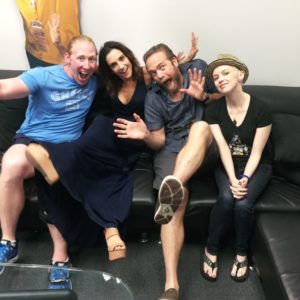 Today's show is about casual hookups, friends with benefits, and all different types of non-committal sex. Emily and Menace welcome a panel of four single Los Angelenos to navigate the seas of sex without commitment! Together, they share and compare unique personal stories, experiences, and opinions about making love sans the love part.
Emily and Menace discuss some studies that suggest casual sex is on the rise. The number of casual hookups and "friends with benefits" relationships has increased dramatically since the 90's. Are dating apps like Tinder partially responsible for this influx of almost-relationships? A recent study claims that Tinder is actually "curing loneliness" but we're not buying it.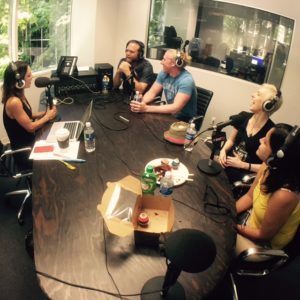 What exactly constitutes casual sex anyway? Emily turns to her team of singles, Justin (41), Jordan (25), Tara (41), and Laurie (27) to pick apart the dynamics of casual sex from all angles. While some may see casual sex as a stepping stone to something more, Jordan offers his simplified system for no strings attached sex, standards NOT included. The table shares their own take on how to hang in this new hookup culture, as well as the quality of one night stand sex and the importance of oral. The team also tackles an email that raises the issue of slut-shaming. Is there still a stigma associated with women having casual sex?
This Sex With Emily podcast is a melting pot of stories from singles, sexual experiences, and defining what casual sex is for each person. Whether you're looking for more, or keeping as little as possible, this show is one everyone can relate to and is not to be missed!
Can't get enough SexWithEmily?
Subscribe on iTunes and never miss your bi-weekly Sex With Emily podcast…
Special discounts for listeners of Sex With Emily:
Use coupon code Emily for 15% off at Good Vibrations and coupon code EMILY for 20% off my Aromatherapy Massage Candle and DownUnder Comfort at Emily& Tony.
Go to Promescent to make love longer.
Increase your stamina with the #1 selling sex toy for men, Fleshlight. Use code: Emily to get a FREE bottle of Fleshlube with your purchase.
Stop by Hustler Stores in Hollywood or the closest store near you for all your kinky needs- Don't forget to mention "Sex With Emily" at the counter for 20% off your purchase.