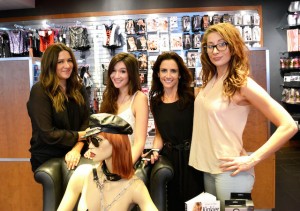 On today's show, Emily demonstrates her top mantra: communication is lubrication. Emily compiled a list of the most popular questions she gets asked from listeners and teaches communication skills those sticky situations. If communication is a tough subject for you, don't worry, she give you a script for that.
Subjects include: How do I talk about anal sex?, How do I talk about erectile dysfunction or premature ejaculation?"Emily shares the most effective ways to ask for more oral sex and encourages women to be open (and honest) about their orgasms.
So, what do you do if your partner doesn't want to go down on you? How do you ask a new partner about STIs? And, of course, how do you stay out of the dreaded "friend zone?" Emily explains why you need to approach these touchy situations and how to do it right.
Emily's panel of female truth-tellers today include her assistant Lauren and her intern Carolyn. The women discuss common issues women deal with during sex, but don't ever talk about.
Both women share the truth about their own romantic lives. Emily coaches them with scripts to deal with their current relationship challenges and also helps her listeners with their toughest questions. The Sex With Emily women contribute specific tips on how to ask for what you want in and out of the bedroom. You don't want to miss this.
Send your questions , comments & fantasies to: feedback@sexwithemily.com,
Can't get enough SexWithEmily?
Subscribe on iTunes and never miss your bi-weekly Sex With Emily podcast…
Special discounts for listeners of Sex With Emily:
Use coupon code GVEMILY20 for 20% off at Good Vibrations and coupon code EMILY for 20% off my Aromatherapy Massage Candle and DownUnder Comfort at Emily& Tony.
Go to Promescent to make love longer.
Increase your stamina with the #1 selling sex toy for men, Fleshlight.
Stop by Hustler Stores in Hollywood for all your kinky needs- Don't forget to mention "Sex With Emily" at the counter for 20% off your purchase.