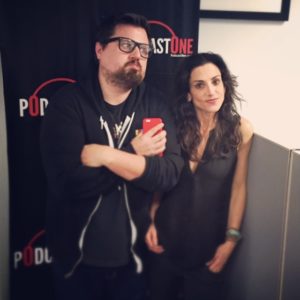 Is your fear of rejection holding you back from fully embracing the dating scene?
In this show, Emily teaches you how to handle rejection and how to bounce back an even better person because of it. From missed online connections to shocking breakups to disappearing daters, Emily and Menace share tips to help you move forward from minor setbacks, toward better dating opportunities.
So that cutie at the bar didn't want to trade numbers? Or that guy on Tinder pulled the ghost maneuver? Emily gives advice on how to shake it off, stop the obsessing and view each rejection as a blessing in disguise. Plus, for those who have trouble just saying no, she shares guidance on how to reject 'em with kindness.
Emily and Menace discuss the future of sex – Who's ready for virtual reality long-distance nookie? Or sex in the backseat of a self-driving car? Also, which unconventional scents are most likely to get you laid? Emily has the surprising answer.
Dating is a numbers game, and the possibility of striking out will always be looming. In this episode, Emily explains how to conquer your fears, learn from rejection and be the best dater you can be! Don't miss it.
Can't get enough SexWithEmily?
Subscribe on iTunes and never miss your bi-weekly Sex With Emily podcast…
Special discounts for listeners of Sex With Emily:
Use coupon code GVEMILY20 for 20% off at Good Vibrations and coupon code EMILY for 20% off my Aromatherapy Massage Candle and DownUnder Comfort at Emily& Tony.
Go to Promescent to make love longer.
Increase your stamina with the #1 selling sex toy for men, Fleshlight. Use code: Emily to get a FREE bottle of Fleshlube with your purchase.
Save 10% off beautiful high-quality sex toys at Je Joue when you use code: Emily
Stop by Hustler Stores in Hollywood or the closest store near you for all your kinky needs- Don't forget to mention "Sex With Emily" at the counter for 20% off your purchase.