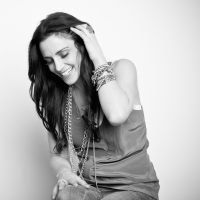 On tonight's show, Emily answers your most pressing sex and relationship questions that you sent to Feedback@SexWithEmily.com.
Topics include: how to rock the missionary position, the right lube for you, and what to do when the dirty talk gets too dirty . Emily and Anderson discuss a surprising fact on millennial dating, tell you what two qualities you need for a successful relationship and answer the question on everyone's mind: Where do all the disappearing daters go?
Think that all millennials are getting laid left and right? Think again! Emily explains how the rising popularity of dating apps is leading to less sex and more texting, and laments her own text-only relationships.
Then it's on to some listener emails. As you all know, Emily has a dream that one day, there will be a bottle of lube on every night stand. Between water-based and silicone, flavored and unflavored, Emily helps a long-time listener narrow down his lube options to find the kind that's jusssst right!
Emily gives tips to help a listener mix up her sexual positions to get more fulfillment when she is wants to mix up the missionary.Plus, struggles of a modern woman: what do you do when your partner takes the dirty talk too far? and how to navigate the touchy money issue without damaging your relationship.
Life is too short to have sex the same way, every day! Emily gives tips to help you mix things up and find your sweet spot, whether it be the G or otherwise.  From the best lube on the market to the worst thing you can say to a man in bed to Gottman's secret to a lasting relationship, this Podcast has advice to help you get the hell off your phone, and get the sex and relationships you deserve.
Can't get enough SexWithEmily?
Subscribe on iTunes and never miss your bi-weekly Sex With Emily podcast…
Special discounts for listeners of Sex With Emily:
Use coupon code GVEMILY20 for 20% off at Good Vibrations and coupon code EMILY for 20% off my Aromatherapy Massage Candle and DownUnder Comfort at Emily& Tony.
Go to Promescent to make love longer.
Increase your stamina with the #1 selling sex toy for men, Fleshlight. Use code: Emily to get a FREE bottle of Fleshlube with your purchase.
Stop by Hustler Stores in Hollywood or the closest store near you for all your kinky needs- Don't forget to mention "Sex With Emily" at the counter for 20% off your purchase.