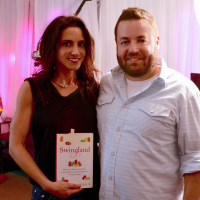 Did you know that there's an estimated 15 million swingers in the world?  This week, Emily interviews Daniel Stern, author of Swingland: Between the Sheets of the Secretive, Sometimes Messy, but always Adventurous Swinging Lifestyle. Listen in on how a single man learned to navigate "The Lifestyle" and pick up some specific tips on how you can add a little spice to your sex life. Daniel shares his insider experiences and tips that we can use in any relationship – whether swinging, married, dating or single.
Emily and Anderson catch up and we hear all about Emily's sold out "How to Blow (His Mind)" workshop at Hustler. Plus, the pair dare to ask Dan about some of his most crazy stories about swinging. Prepare yourself for dominatrixes, orgies and cuckolding gone wrong!
Daniel shares how The Lifestyle took him from being "bad at sex" to a master in the bedroom. He shares his best tips for performing oral sex on a woman, how to date and still be a swinger and the best websites to use when you're looking for a partner (or partners).  Also, he explains why you might have the wrong impression of what a swinger really is and the pros and cons of being a swinger. What's the best way to introduce a new partner to your sexual past? Do all swingers have ponytails? Is The Lifestyle right for you? Those questions answered and more in the latest episode of Sex With Emily!
Can't get enough SexWithEmily? Subscribe on iTunes and never miss your bi-weekly Sex With Emily podcast…
Special discounts for listeners of Sex With Emily:
Use coupon code GVEMILY20 for 20% off at Good Vibrations and coupon code EMILY for 20% off my Aromatherapy Massage Candle and DownUnder Comfort at Emily& Tony.
Go to Promescent to make love longer.
Increase your stamina with the #1 selling sex toy for men, Fleshlight.
Stop by Hustler Stores in Hollywood for all your kinky needs- Don't forget to mention "Sex With Emily" at the counter for 20% off your purchase.