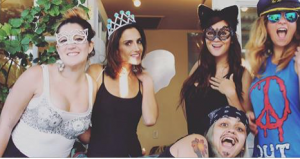 October is coming to its end, and Sex With Emily is here to help you close it out with a kinky, freaky bang! On today's show, Emily is doling out tips and techniques for how to take your existing sexual inclinations the the next level of naughty.
But first, Emily and Menace go over some stimulating Sex In The News. If you happen to be a sufferer of kidney stones, a new study shows that the best medicine for what ails you is frequent sex! And speaking of sexy discoveries, scientists have discovered a volcanic Hawaiian mushroom that's unique odor induces instantaneous, hands-free orgasms. Who wouldn't enjoy a good ol' fungus-fueled FUNgasm?
Then it's time to kink it up with some fun and easy tips to take what already turns you on to the next level of hotness. How do you turn your fantasies into erotic reality? What steps can you take to heat up your sensual massage? How can you and your partner amplify your porn fetish? Emily gives step-by-step guidance for all these sexy situations and also takes a call from a loyal listener looking to put her kinky sex preferences into practice with her partner.
From fast food fantasies to blindfolds in bed, this Sex With Emily podcast is sure to help add some spice to any "vanilla" sex life — you might even catch Emily sing a jingle or two! Don't miss it!
Can't get enough SexWithEmily?
Subscribe on iTunes and never miss your bi-weekly Sex With Emily podcast…
Special discounts for listeners of Sex With Emily:
Use coupon code Emily for 15% off at Good Vibrations and coupon code EMILY for 20% off my Aromatherapy Massage Candle and DownUnder Comfort at Emily& Tony.
Go to Promescent to make love longer.
Increase your stamina with the #1 selling sex toy for men, Fleshlight. Use code: Emily to get a FREE bottle of Fleshlube with your purchase.
Stop by Hustler Stores in Hollywood or the closest store near you for all your kinky needs- Don't forget to mention "Sex With Emily" at the counter for 20% off your purchase.