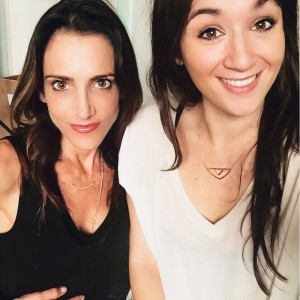 With the holidays just around the corner, it's the time of the season to think of our loved ones… or lack thereof, as the case may be. So to help you get to where you want to be in your love and sex life, Emily and Producer Madison are taking to your emails and answering some of your top sex and relationship questions on today's show.
But first, are you having trouble cutting the social media cord from your ex? Well, Facebook has announced new tools to help you move on from your breakup by keeping you clear of your ex's internet trail. And in other, more repugnant news, a California woman claimed she was duped into renting her residence via Airbnb to renters who covertly produced hardcore gay pornographic films in her sprawling mansion. The woman has filed a lawsuit for fraud and negligence but more importantly, for extensive damage to her property on which she discovered various bodily fluids, enema kits, sex devices and God know what else. Would it have hurt them to clean up a little?
Then for all you online daters out there, how do you handle getting ghosted by a seemingly promising prospect? How can you increase your dating appeal to the people you're actually attracted to? For those already in a relationship, what's the best way to get your partner to turn up the heat in the bedroom? Emily and Madison help these listeners master the intricacies of communication and explore new methods for sexual fulfillment, whether it's through rougher sex or a lesser-known fetish. They also discuss the common issue of wandering minds in couples that have settled down with their first love.
This show fires on all cylinders of sex and relationship issues. From first dates to first loves to urethral sounding and more, today's podcast is sure to teach you something you didn't know before. Don't miss it!
Get more information on SAFE urethral sounding:
https://www.thechaingang.com/blog/how-to-start-using-penis-plugs-and-sounds/
http://www.lovehoney.com/bondage/cock-ball-toys/buyers-guide/what-is-urethral-sounding/
http://barkingshaman.com/2012/08/21/how-to-use-urethral-sounds/
Can't get enough SexWithEmily?
Subscribe on iTunes and never miss your bi-weekly Sex With Emily podcast…
Special discounts for listeners of Sex With Emily:
Use coupon code Emily for 15% off at Good Vibrations and coupon code EMILY for 20% off my Aromatherapy Massage Candle and DownUnder Comfort at Emily& Tony.
Go to Promescent to make love longer.
Increase your stamina with the #1 selling sex toy for men, Fleshlight. Use code: Emily to get a FREE bottle of Fleshlube with your purchase.
Unlock the secret to your orgasmic potential with the one-of-a-kind Sybian ($75 off with code: EMILY75)
Tighten and tone your pelvic floor for stronger orgasms with the Intensity by Pour Moi
Stop by Hustler Stores in Hollywood or the closest store near you for all your kinky needs- Don't forget to mention "Sex With Emily" at the counter for 20% off your purchase.