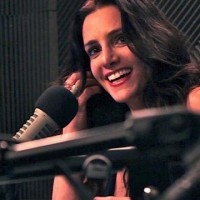 Happy National Orgasm Day! In honor of the big "O," today's throwback podcast from 2012 is all about getting yourself past the pleasure point of no return, in more ways than one!
If you think there's only one kind of orgasm, get ready to have your mind blown. Emily gently, but not too gently, guides you through the many types of orgasms a woman can experience and provides steps to help you achieve whatever O you're aiming for.
Find out exactly what makes a multiple orgasm and learn how to turn them into a recurring star of your sex life! Emily also educates on how to locate your G-spot for optimal orgasms and reminds us why faking O's is the ultimate no-no.
Emily also answers listener emails about navigating the sometimes rough seas of a friends with benefits relationship, deciding whether or not to sleep with your partner's best friend, and, you guessed it, ORGASMS! What's impeding your masturbation routine? How can you make self-love even better? Listen to find out!
If there's one thing you do to celebrate National Orgasm Day (besides having a couple of them yourself), check out this classic podcast, straight from the Sex With Emily vault, and have yourself a THROWgasm.
Can't get enough SexWithEmily?
Subscribe on iTunes and never miss your bi-weekly Sex With Emily podcast…
Special discounts for listeners of Sex With Emily:
Use coupon code Emily for 15% off at Good Vibrations and coupon code EMILY for 20% off my Aromatherapy Massage Candle and DownUnder Comfort at Emily& Tony.
Go to Promescent to make love longer.
Increase your stamina with the #1 selling sex toy for men, Fleshlight. Use code: Emily to get a FREE bottle of Fleshlube with your purchase.
Stop by Hustler Stores in Hollywood or the closest store near you for all your kinky needs- Don't forget to mention "Sex With Emily" at the counter for 20% off your purchase.