Free the Nipple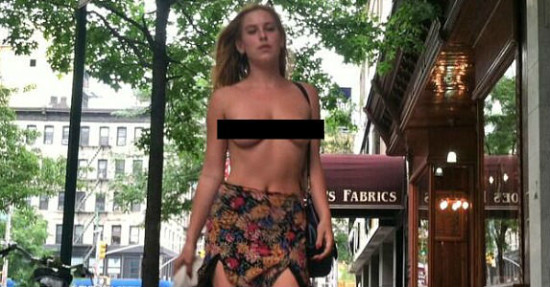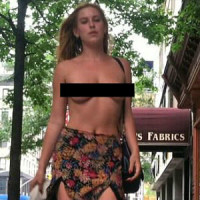 Last week, Instagram was met with thousands of  "#FreeTheNipple" hashtags in response to a recent campaign headed by women fighting for the right to go topless in public. The Free The Nipple movement has been around for 4 years but just received a surge in popularity after the 22 year old daughter of Bruce Willis and Demi Moore, Scout Willis, was photographed walking around New York City with bare breasts. 
Scout Willis, hipster-actress and Instagram activist, says "For the record, I've always really loved Instagram" in a recent article she wrote for XOJANE. Willis considers herself a supporter of body politics and after a breast reduction surgery several years ago, feels strongly that women should not be ashamed of their bodies.
Instagram's terms of use are somewhat vague and loophole friendly, yet when disregarded by certain users- punishment is swift and severe. "You may not post violent, nude, partially nude, discriminatory, unlawful, infringing, hateful, pornographic or sexually suggestive photos or other content via the Service." (#2 under Instagram's "Basic Terms.") However, those who use Instagram regularly know that it's not difficult to find nude images on the popular app. There seems to be a disconnection between the terms of use and the reality of what people post on Instagram. A quick search of "#adult" will showcase endless pornographic images, ones that are probably posted too often to be deleted right away. However, tasteful nudes or even casually bare-chested women are lumped into the same category and often times receive harsh punishment- a deleted account and ban from Instagram.
Willis had her Instagram deleted for "instances of abuse," which "in reality amounted to a photo of [myself] in a sheer top and apost of a jacket I made featuring a picture of two close friends topless. For these instances of abuse, I was politely informed that I would no longer be welcome in the Instagram community." Willis' situation was not unique, a simple google search reveals a large amount of articles about both men and women facing the similar charges. Superstar musician Rihanna's Instagram account was deleted after she posted a picture of herself on a European magazine cover featuring her topless. As a result, there have been many articles mourning her deleted account. Even American fashion design and Gucci guru Tom Ford wrote an article about it.
Willis is just one of many who is protesting Instagram's nipple censorship. The fight to destigmatize female nudity is ever present. Willis says she's "not trying to argue for mandatory toplessness, or even bralessness. What [I'm] arguing for is a woman's right to choose how she represents her body — and to make that choice based on personal desire and not a fear of how people will react to her or how society will judge her."
Can't get enough SexWithEmily?
Subscribe on iTunes and never miss your bi-weekly Sex Ed…
http://ow.ly/xf9Ty Podcast