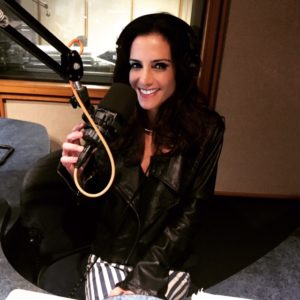 In this episode, Emily answers listener emails, and dives into one of your favorite topics: Oral sex! Plus she shares what she really thought of the Fifty Shades of Grey film, discusses some alarming sex in the news and recounts her latest near-death experience.. And no, it wasn't from eating her first meal at Carl's Jr.
Even if you hated the book and hated the film, you can't deny that Fifty Shades has got the nation handcuffed and ready to be taken to their sex dungeon. Emily explains the true appeal of the billionaire bad boy and his virginal counterpart, and shares her candid thoughts on the film. She also discusses the little lessons you can take away from the Fifty Shades franchise, both good (light bondage) and bad (awkward sex injuries).
Then it's on to oral sex tips! Whether you hate doing it, you're not great at doing it, or you think you're doing it well but you could still use some guidance, Emily breaks through your oral barriers and teaches you how to go down on a woman! She also gives advice on lubricant etiquette for single guys – Is it okay to bust out your trusty lube with a new partner?
Want to know what a vagina and a car engine have in common? Or how Fifty Shades can actually change your sex life, for the better? This podcast has the answers and so much more.. Check it out!
Can't get enough SexWithEmily?
Subscribe on iTunes and never miss your bi-weekly Sex With Emily podcast…
Special discounts for listeners of Sex With Emily:
Use coupon code GVEMILY20 for 20% off at Good Vibrations and coupon code EMILY for 20% off my Aromatherapy Massage Candle and DownUnder Comfort at Emily& Tony.
Go to Promescent to make love longer.
Increase your stamina with the #1 selling sex toy for men, Fleshlight. Use code: Emily to get a FREE bottle of Fleshlube with your purchase.
Save 10% off beautiful high-quality sex toys at Je Joue when you use code: Emily
Stop by Hustler Stores in Hollywood or the closest store near you for all your kinky needs- Don't forget to mention "Sex With Emily" at the counter for 20% off your purchase.