It's a whole new world of pleasure products. 
With the legal cannabis industry turning its attention towards sex, we've got a fresh menu at our fingertips. Want stronger orgasms? A higher sex drive? Less performance anxiety? Cannabis products to the rescue.
It's an emergent industry (aka: research and studies are thin), but the evidence we do have suggests that cannabis can indeed boost sexual pleasure…like, a lot. So whether you're new to this world or already partake, here are my favorite 4/20-friendly recs: tested and vetted. 
On The Body
Morgasm CBD-Infused Lube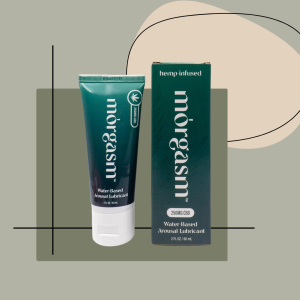 An orgasmic, water-based lube infused with CBD for chill and L-Arginine for arousal. CBD increases blood flow, supports muscle relaxation, and reduces discomfort, so everyone, penis owners and vulva owners alike, gets a more intense orgasm with this stuff. Hypoallergenic, slippery, toy-safe, and yummy to taste, I seriously can't get enough of this stuff. Use code EMILY at checkout for 15% off sitewide.
Hello Again THC & CBD Vaginal Suppositories
Menopause can make sex painful, but these clever suppositories are designed to offer relief without a "head high." Because cannabis is a vasodilator, these suppositories open up blood flow right where it's needed: your vagina. And because this area is full of cannabinoid receptors, the ingredients get right to work to soothe pain. If you're menopausal, the Everyday suppository contains THC to help the CBD work optimally – fighting inflammation to help you feel better. 
Fleur Marché Sex, Plz Patch
Cannabis + L-Arginine = a consistently sexy combo. But these patches actually deliver hemp in a bioavailable way, making sure the ingredients get into your bloodstream for legit relaxation and soothed nerves. A nice option if you're not looking to get "high" per se, but want to feel both chill and aroused between the sheets. 
Vena Calming CBD Soaking Salts
Ok but seriously, when was the last time you paused your grindset? If you can't remember, it's time to unwind with this stuff. Infused with lavender, chamomile, and high-potency CBD, it's the self-care essential you didn't know you needed.  
Edibles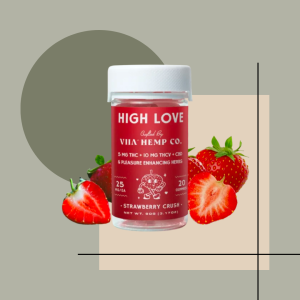 VIIA Hemp Co High Love – THC Libido Gummies
For a best-in-class gummy that stokes your sex drive, my hands-down favorite brand is VIIA Hemp Co. For a warm body high that increases sensitivity head-to-toe, you really can't beat it. Formulated with THC, CBD and libido-enhancing adaptogens like damiana, it's a special treat for solo sex and partner playtime like.
Ounce of Hope Delta 8 Milk Chocolate
Fun fact. Delta 8, a synthetic derivative of THC, has been shown to increase your body's levels of acetylcholine: a neurotransmitter responsible for many important functions, like sexual arousal and maintaining erections. If that sounds good to you, you'll love these delicious bites from Ounce of Hope: each piece of the bar contains 20mg of delta 8 THC.
Fruit Slabs Tropical Haze Fruit Leathers
Made with organic fruit and topped with hemp seeds, these are more of a bespoke edible that, PS, taste incredible. But they're also strong: there's 10mg of THC in each (kosher!) chunk, for a decidedly euphoric, all-over high that's wonderful for sex or date night. Just don't eat the whole thing all at once: start low and go slow, so that the onset (usually 30 minutes to an hour) is a gentle, sexy build. 
Mary Jane's Bakery Magic Brownies
Time for a classic. What's great about these thick, fudgy brownies (besides the thick fudginess) is that you can order them infused with your choice of delta 8 THC or CBD, depending on your preference / legality. If you're the type who likes to combine chocolate and sex – a truly winning combo – these treats are for you. Just remember: when it comes to edibles, slow and steady wins the race.
Oral
1906 New Highs Love Drop Pills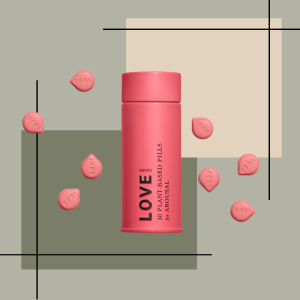 With ultra-precise dosage and herbal aphrodisiacs, these pills from 1906 give a sexual effect that's absolutely lovely. Ingredients like theobromine increase blood flow to your sexy bits, for boosted lubrication and sensation. Meanwhile, the 2.5 THC/2.5 CBD combo create a dual body-and-head high that's mildly euphoric (and oh-so arousing). 
Click Spray Dream
Let's face it: erotic and exhausted don't go together. So if you're looking for a cannabis product that'll help you sleep (and is super fast-acting), this baby is for you. With 2.5mg THC 1:2 CBD per click, along with a nice dose of melatonin, it'll help you get the deep sleep you crave…so you can indulge other cravings, later. 
Charlotte's Web CBD Oil
If anxiety and stress kills your sex drive, look no further than a gentle (but effective) CBD tincture. You're not going to feel "high," but the terpene balance in this formula will help you feel calmer over time, and quiet a chatty mind. Better focus = better sex, so treat this oil not so much as a one-and-done sex assist, but a daily supplement to keep you grounded. 
Cann Social Drinks
A "cocktail" infused with THC and CBD (but no alcohol), I'm in love with these tasty little drinks. A mild euphoric buzz that's both head and body, I find Cann perfect for date night – just pop one open, and feel your flirty side open up with each sip. If you're already into gummies or other edibles, expect a buzz that comes on more gradually, rather than hitting you all at once. 
It's high time you elevated your pleasure potential, right? Happy 4/20 (all year long!) and stay tuned for my upcoming cannabis + sex episode, to find out if cannabis is right for you, delivery methods du jour, and up-to-date cannabis science. Never miss an episode: subscribe now (scroll to the bottom!) wherever you listen to podcasts.