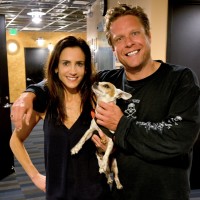 This week's show is all about the secret to your sexual powers, your sex drive! Emily talks about how to get the amount of sex you crave and what to do when your libido takes a dive. She covers some of the lesser known sex issues, including a woman with a secret porn habit, a few ladies whose husbands aren't into sex, and a man who divorces his wife over her insatiable sexual appetite.
Quick pop quiz: Most men reach their sexual peak at age 18, while most women experience theirs in their thirties – True or False? The answer may surprise you..
Throughout the show, Emily tackles common misconceptions and gives you the real sex drive facts. Whether you're male or female, older or younger, you can have a fulfilling sex life. Just commit to a sex date and make it happen. Yes, this really works.
Emily explains why you must know your relationship limits: How do you know when to call it quits? She advises a listener with a stagnant sex life, and helps a woman whose post-baby sex life is less than satisfactory. When a freak in the sheets becomes a mommy, where does the sex go?
From mismatched libidos to mismatched desires to the best ways to spice up your married sex life, this episode addresses the most common sex drive challenges and answers a few unexpected questions:
– Why does Anderson wish he had less libido?
– What label is Emily just not that into?
– Do all girls really hate the jackhammer?
All this and more in the latest Sex With Emily podcast.
Send your questions, comments and fantasies to: feedback@sexwithemily.com,
Can't get enough SexWithEmily?
Subscribe on iTunes and never miss your bi-weekly Sex With Emily podcast…
Special discounts for listeners of Sex With Emily:
Use coupon code GVEMILY20 for 20% off at Good Vibrations and coupon code EMILY for 20% off my Aromatherapy Massage Candle and DownUnder Comfort at Emily& Tony
Go to Promescent to make love longer.
Increase your stamina with the #1 selling sex toy for men, Fleshlight.
Stop by Hustler Stores in Hollywood or the closest store near you for all your kinky needs- Don't forget to mention "Sex With Emily" at the counter for 20% off your purchase.