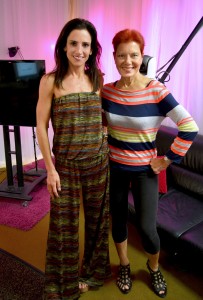 Emily has special guest Candida Royalle on the show, a sex-positive pioneer in the adult film industry and the original inventor of couples' erotica. They cover a variety of topics, including Candida's ground breaking company, Femme Productions, the ever-changing adult industry, the benefits of couples' porn and tips to becoming sexually empowered.
From female insecurities to male's penis complexes, Emily and Candida discuss recurring conflicts surrounding mainstream pornography. Men love it, but their often girlfriends hate it, so how do you make everyone happy? The women weigh in on why watching porn together might just be the solution to your porn problems. And thanks to Candida, there is erotica out there that couples' can both enjoy!
Candida tells us about her journey from on-screen star to a female-friendly filmmaker. How did this sexy starlet with a hardcore art habit turn into one of the first female porn directors? She describes the perfect storm that led to the creation of Femme Productions, erotica with a plot, a story-line and positive sex role-modeling.
The two also touch on the topic of sexual empowerment: What is it and how can more women get it? They answer the question all women need to know: How DO you tell a naked man what to do? For starters, you're not directing traffic! The duo gives scripts to get what you want in the bedroom. Also, Emily helps a listener with her sexual confidence and Candida shares an upcoming project that's close to her heart: 'While You Were Gone: the Untold Story of Candida Royalle'.
From sex toys to fantasies to the one thing that men and women REALLY want sexually, Emily and Candida have tips to help you embrace your sexuality, and take control of your sex life. All this and more in the latest Sex With Emily podcast.
Send your questions, comments and fantasies to: feedback@sexwithemily.com,
Can't get enough SexWithEmily?
Subscribe on iTunes and never miss your bi-weekly Sex With Emily podcast…
Special discounts for listeners of Sex With Emily:
Use coupon code GVEMILY20 for 20% off at Good Vibrations and coupon code EMILY for 20% off my Aromatherapy Massage Candle and DownUnder Comfort at Emily& Tony
Go to Promescent to make love longer.
Increase your stamina with the #1 selling sex toy for men, Fleshlight.
Stop by Hustler Stores in Hollywood or the closest store near you for all your kinky needs- Don't forget to mention "Sex With Emily" at the counter for 20% off your purchase.