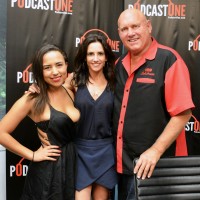 Today's show is all about thinking outside of the sexual box, and here to help is owner of the Moonlite Bunny Ranch and all-around sexual dynamo, Dennis Hof! Along with beautiful Bunny, Miss Ava Adora, Emily leads Dennis through a lively discussion on sex, legal prostitution, and how to really please a woman – and that's just the tip!
From a self-described sexual square to the Cathouse King, Dennis shares his epic journey that led him to become one of the most successful and knowledgeable men in the legal prostitution industry! He tells us how he came to purchase the infamous Nevada brothel (a story involving comedian Andy Kaufman) and turned it into an empire with his pleasure-based business model.
Ava explains how a little case of identity theft brought her from college graduation to the Bunny Ranch, and discloses some of her most memorable sexual experiences, on and off the ranch. She also shares her secret to the art of sexual negotiation, which is like any other business deal, except it ends in great sex!
Next, Emily and Dennis talk about the importance of "effing communication", and how you have to TALK about the sex you want to actually GET the sex you want. Dennis discloses his best tips and tricks for how to REALLY please a woman and Ava tell us why Dennis is the best lover she's ever had (just a hint: 37 orgasms). You're going want to hear what this guy has to say!
They bust the common stereotypes surrounding the world's oldest profession, and touch on the hot topic of what's on the menu at the Moonlite Bunny Ranch! Want to know what a "Viagra Party" is? Or what goes on if you order the "Asian wet room?" In this super-sexy episode, nothing is off limits!
Want to know more about what goes on inside the Moonlite Bunny Ranch? Catch a new episode of the hit series Cathouse, premiering August 14th at 11pm PST on HBO!
Can't get enoughSexWithEmily?
Subscribe on iTunes and never miss your bi-weekly Sex With Emily podcast…
Special discounts for listeners of Sex With Emily:
Use coupon code GVEMILY20 for 20% off atGood Vibrations and coupon code EMILY for 20% off my Aromatherapy Massage Candle and DownUnder Comfort atEmily& Tony.
Go toPromescent to make love longer.
Increase your stamina with the #1 selling sex toy for men,Fleshlight.
Stop byHustler Stores in Hollywood or the closest store near you for all your kinky needs- Don't forget to mention "Sex With Emily" at the counter for 20% off your purchase.