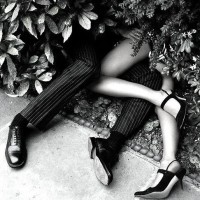 I don't think you're having enough kinky sex. When I say kinky sex, I don't mean you have to do it chained to a spinning apparatus. I just think you should leave your bed once in a while and experiment. This podcast will show you how to have sex outside your comfort zone and try new things with your partner, from butt slapping to sex in the bar bathroom. Okay, maybe you should just start by having sex in your bathroom at home… then you'll be ready for some serious sexcapades. 
I'll show you how to have sex with your partner in a completely different way. You'll feel like you're doing it with a sexy stranger you met at a bar, and not your husband Bob or your wife Susan.I'll also show you how to sext like a romance novelist, without using the term quivering member (ew). How serious do you need to be with someone before you sext them? Rule of thumb: If they haven't seen your penis yet, don't send them a picture of your penis. Also, how specific should you get with your sexting. What's better? I want to suck your c@*%, or I want to suck your c@*% under the desk?
Once you learn how to sext and seduce your partner like a stranger in the night, I'll demonstrate how to talk dirty. Talking dirty means letting loose, which may make you feel uncomfortable at first. Find your dirty talk voice and stay away from clinical words like penis. If you want him to know that you like his pickle, tell him you like his c@*% (you know what I'm saying). I'll tell you how to get started and open up, so you don't feel incredibly awkward getting your dirty talk on.
Special Offer for listeners of Sex with Emily: Kinky Sex
If you want to change your love life check out: Emily and Tony, Promescent, Crazy Girl, Max4Men, Masque, and Good Vibrations.
Emily and Tony is a premium, intimate personal-care brand that believes intimacy should be fun, flirty, sensual and natural. Our products: Aromatherapy Massage Candle, Personal Naturally Hydrating Lubricant, and DownUnder Comfort for you sweaty nether regions.
Use coupon code Emily25 at checkout for 25% off your purchase at Crazy Girl and Max4Men.
Use coupon code GVEmily20 at checkout for 20% off purchases of $100 or more at Good Vibrations. Or use coupon code Emily for 15% off anything at Good Vibrations.