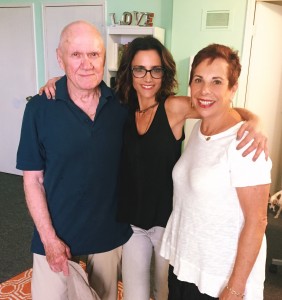 In this week's podcast, Emily welcomes to the show two of the most important and influential people in her life: her parents. Emily's mom Susan and her step-dad Ed join her and Anderson to provide the inside scoop on what it was like rearing baby Emily through early youth, across adolescence and into her uniquely adult-themed adulthood.
After an enlightening stroll down memory lane, Susan and Ed assist Emily with answering your love, sex and relationship emails. Are you struggling to find solid ground with an emotionally inconsistent partner? Has your sex life become lackluster, with an emphasis on the lack of lust? If you're wondering when it's time to cut your losses and leave your relationship, Emily and company have advice to help you work through it or move on.
Then, Emily's parents have their own sage advice to offer, in the form of personal secrets for maintaining a healthy and happy relationship. They impart the importance of lovers spending conducive time apart, and explain how they've managed to keep troublesome codependency at bay. The gang also discuss the drawbacks and benefits of being an alpha-female in a relationship, and share tips on how to find the right life partner to complement your personality.
If you've ever wondered where Emily came from, this episode is sure to satisfy your curiosities. From stories of bloody sweaters to Emily's first job to her infamous dating track record, Susan and Ed are spilling the beans. Join Emily and her parents for this unprecedented Sex With Emily show.
Can't get enough SexWithEmily?
Subscribe on iTunes and never miss your bi-weekly Sex With Emily podcast…
Special discounts for listeners of Sex With Emily:
Use coupon code Emily for 15% off at Good Vibrations and coupon code EMILY for 20% off my Aromatherapy Massage Candle and DownUnder Comfort at Emily& Tony.
Go to Promescent to make love longer.
Increase your stamina with the #1 selling sex toy for men, Fleshlight. Use code: Emily to get a FREE bottle of Fleshlube with your purchase.
Stop by Hustler Stores in Hollywood or the closest store near you for all your kinky needs- Don't forget to mention "Sex With Emily" at the counter for 20% off your purchase.