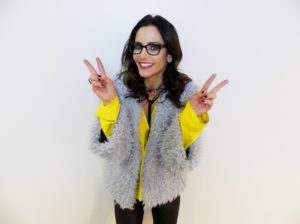 We all learn lessons from our sexual pasts, but how do you know what tips to take and what to leave behind? On this show, Emily is taking your calls and doling out advice to help you overcome lingering sex insecurities for a hotter new year.
Are your penis size hang ups holding you back in the bedroom? Did a negative review leave you doubting your smooching skills? And what do you do when your married sex life has hit a 9 year drought? Emily answers all these questions and more, and even gives an important lesson on how to silence the slut-shamers in your life.
Whether you're a grower, a show-er or are just a little too timid with your tongue, this show has tips to help you take control of your sex life.
Click Here to subscribe to our weekly newsletter.
Special discounts for listeners of Sex With Emily:
Clean your toys like a grown up with UVee, available now on Kickstarter.  Don't miss early adopter prices and bundles!
Enhance your oral sex experience and become the dessert with JO's flavored Gelato lubricants…
Use coupon code Emily for 15% off at Good Vibrations and coupon code EMILY for 20% off at Sportsheets.com
Tighten and tone your pelvic floor for stronger orgasms with the Intensity by Pour Moi — My Kegel Camp app will help you stay on track!
Increase your stamina with the #1 selling sex toy for men, Fleshlight or check out the only FDA-approved delay spray Promescent to make love longer…
Explore the tantalizing world of prostate pleasure with the Black Pearl from Vibratex OR revisit an old classic, the Cadillac of all vibrators, the Magic Wand Original.