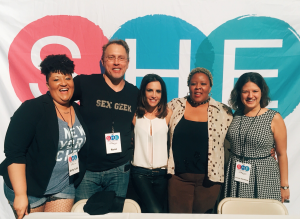 In this show, brought to you live from the Sexual Health Expo in Los Angeles, Emily welcomes 3 guest sex experts to cover a smorgasbord of sex and love topics. From bedroom communication to play parties and more, this show is full of tips to help you strengthen your relationship, turn up the kink, and explore alternative lifestyles.
In the course of an hour, America's favorite sex geek Reid Mihalko gives his number one blowjob tip, certified MFT Jennie Steinberg leads a crash course in Love Languages, Dirty Lola shares her journey into polyamory and Mollena Williams makes BDSM accessible for the masses. And as if this isn't enough fun for all you lovers out there, Emily engages the audience in a live Q&A centering around communication and sexual education!
If you missed the Sexual Health Expo this year, fear not — This podcast is loaded with knowledge bombs and highlights from some of the leading speakers and sexperts in the industry. Don't miss it!
Follow these guests:
Reid Mihalko
www.reidaboutsex.com
TW: @ReidAboutSex
Jennie Steinberg
www.JennieSteinberg.com
TW: @TherapistJennie
Dirty Lola
www.sexedagogo.com
TW: @DirtyLola
Mollena Williams
www.mollena.com
TW: @Mollena