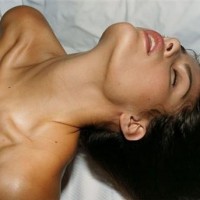 I interviewed sex coaches Celeste and Danielle on how to have multiple orgasms. Because seriously who doesn't want to have multiple orgasms? If you want to give and receive multiple orgasms you have to work on your moves and your mental state. You can't have one without the other unless you're one of those lucky women who orgasm while riding a bicycle.
Many sexual problems stem from not telling your partner what you want. Sometimes you want to be cuddly and cute and other times you want to be tied up and spanked. Be blunt and communicate your desires. If you're not sure how to say, "honey I want you to bend me over the kitchen table," this podcast will help.
Celeste and Danielle also talk about what it means to be a sexual person. Does it mean you have to think about sex all the time? Or you're more sexually open than other people?
Most everyone is a sexual person. Don't let anyone make you feel like you're too sexual or not sexual enough. This podcast will help you unlearn social stigmas about sex and teach you how to be more honest about your desires.
Also:
Is it wrong to fantasize about someone else during sex?
How do you seduce a woman? No, it does not necessarily involve lighting candles and soft music.
How to throw a woman against a wall (in a sexy, not painful way.)
How to get connected with your own desire
And ten of my favorite sex tips.
Special Offer for listeners of Sex with Emily: Multiple Orgasms
If you want to change your love life check out: Promescent, Crazy Girl, Max4Men, Masque, and Good Vibrations.
Use coupon code Emily25 at checkout for 25% off your purchase at Crazy Girl and Max4Men.
Use coupon code GVEmily20 at checkout for 20% off purchases of $100 or more at Good Vibrations.