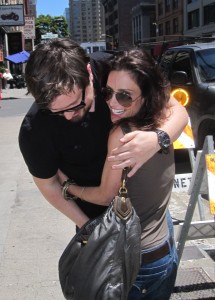 Today's podcast comes to you straight from the Sex With Emily vault. This blast from the past is all about adding some SEX-citement to your life and trying new things both in (and outside) the bedroom. So strap on your time-travel boots, 'cause we're taking you back to November 1st, 2011 to get acquainted with your new naughty bucket list!
Emily and Menace take a page or two from The Naughty Bucket List: 369 Sexy Dares to do Before You Die by Kourtney Jason. But before they dive into the inventory of titillating tasks, they mull over a few gripping Sex In the News stories and answer your listener emails! Is making your girlfriend squirt on your sex bucket list? If so, Emily has the tips you need to make this fantasy a soaking wet reality. Also, how can you tell if your new boo is using you for your moola? The pair help one listener define the correct context in which to lend a lover some loot.
Then, it's time to make their way down the naughty sex bucket list. A wet t-shirt contest: degrading or liberating? Giving a hickey: intimate or immature? Sex in the rain: wet and wild or totally not worth it? Emily and Menace offer their opinions and experiences when it comes to a long list of sexual To-Do's that everyone should try at least once in their sex lives!
This classic Sex With Emily episode will give you all the fuel you need to cross a couple things off your own sexual bucket list. From public sex to casual sex, disco balls to magic 8 balls, the invigorating ideas are nonstop in this throwback podcast!
Can't get enough SexWithEmily?
Subscribe on iTunes and never miss your bi-weekly Sex With Emily podcast…
Special discounts for listeners of Sex With Emily:
Use coupon code Emily for 15% off at Good Vibrations and coupon code EMILY for 20% off my Aromatherapy Massage Candle and DownUnder Comfort at Emily& Tony.
Go to Promescent to make love longer.
Increase your stamina with the #1 selling sex toy for men, Fleshlight. Use code: Emily to get a FREE bottle of Fleshlube with your purchase.
Stop by Hustler Stores in Hollywood or the closest store near you for all your kinky needs- Don't forget to mention "Sex With Emily" at the counter for 20% off your purchase.