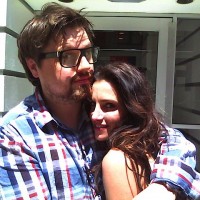 In this classic throwback episode of Sex With Emily from 2012, Emily and Menace address birth control and penis mischief in the news, answer emails from a few girls with orgasm issues, and tackle some cheating statistics. But first, Emily recaps her experience at San Francisco's sprawling music festival, Outside Lands. She shares stories ranging from sneaky makeout sessions, to festival food, to the frantic curbside search for her missing cellphone.
Remember when ObamaCare was a new thing? In Sex in the News, Emily discusses how it changed the accessibility of contraceptives for women. Elsewhere in the news, we ponder the outrageous actions of a desperate Taco Bell employee, a woman who set a man's genitals on fire, and the possibility of having babies on Mars!
Also, Emily helps a series of listeners who seem to be having some relationship/orgasm problems. Is your man overstaying his welcome in your home? Have you fallen into a "reverse cowgirl" pattern?  Emily and Menace explore the wonders of "hand jobs performed on women," Dunkin' Donuts, and an unsettling, but comprehensive set of statistics and facts about the ever-present issue of CHEATING.
Fresh out of the vault from 2012, check out this old school Sex With Emily episode! It's jam-packed with crazy sex in the news, serious sex in relationship issues, and some surprising revelations.  Want a few great "finger-banging" techniques? Need some signs that your partner is cheating on you?  Get these and more on this episode of Sex With Emily!
Can't get enough SexWithEmily?
Subscribe on iTunes and never miss your bi-weekly Sex With Emily podcast…
Special discounts for listeners of Sex With Emily:
Use coupon code Emily for 15% off at Good Vibrations and coupon code EMILY for 20% off my Aromatherapy Massage Candle and DownUnder Comfort at Emily& Tony.
Go to Promescent to make love longer.
Increase your stamina with the #1 selling sex toy for men, Fleshlight. Use code: Emily to get a FREE bottle of Fleshlube with your purchase.
Stop by Hustler Stores in Hollywood or the closest store near you for all your kinky needs- Don't forget to mention "Sex With Emily" at the counter for 20% off your purchase.