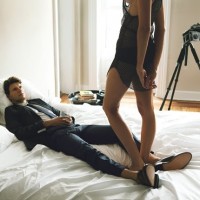 How does a porn star have sex when he's not on a porn set? Does he pump away for hours with his chiseled abs glistening with sweat?
According to porn star Joey Ray, porn star sex isn't all it's cracked up to be. No one wants it to last that long, that hard. Porn focuses on performance, not pleasure. You might learn some fancy moves from porn, but you're not going to learn how to truly pleasure a woman.
So, how do you please a woman? 
Ray is all about female pleasure. He talks about how to last the right amount of time during sex. Hint: It's about how long it takes her to orgasm. He also talks about how to find out what turns on different women. The same techniques don't work with every partner. You have to pay attention and really get to know her body, instead of obsessing about your own performance. The more you make sex about her, and the less you try to act like a porn star, the better the sex will be.
The take home message: Have sex like a porn star, but only when they aren't having sex for the camera.
Special Offer for listeners of Sex with Emily: Porn Star Sex (It's Not What You Think)
If you want to change your love life check out: Promescent, Crazy Girl, Max4Men, Masque, and Good Vibrations.
Use coupon code Emily25 at checkout for 25% off your purchase at Crazy Girl and Max4Men.
Use coupon code GVEmily20 at checkout for 20% off purchases of $100 or more at Good Vibrations. Or use coupon code Emily for 15% off anything at Good Vibrations.