It's that time of year again and I've got you covered. You've come to the right place for a pleasure-filled holiday shopping experience. 
Here are my top picks that have sparked joy for me personally and enhanced my life in oh so many ways- we're talking meaningful, pleasurable, and useful gifts for that special someone (or yourself, because you deserve it). From building intimacy to speaking their love language (whether it's gifts or orgasms),  these products will help you warm their heart…right after you blow their mind. 
For the Stylish Lover 
Unkempt? Never. 
Love Crave x SWE Vesper & Cuffs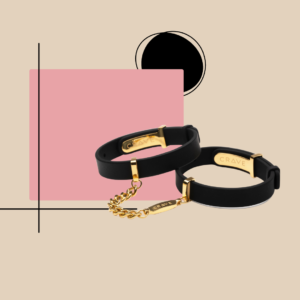 Would you look at that: a necklace that meets your needs wherever you go, because this vesper vibrates. Available in three cute colors (silver, gold and rose gold) and personalized engravings like "Meditate. Masturbate. Manifest," and "Turn Me On" it's all but guaranteed to be a (sexy) conversation starter. And check these cuffs: they look like stacked bracelets…but are actually sophisticated bed restraints, in cognito.  
Fetish wear can be hit or miss, but this vegan leather harness is legit couture. For real: layer it over a flowy dress for Coachella vibes, or layer it over your nude skin for hot dom realness. 
Fleur Du Mal's Sex With Emily Bundle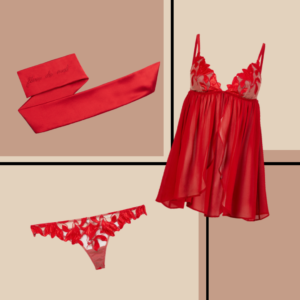 Secret's out: I've teamed up with this sensual lingerie and ready-to-wear brand, for a limited edition capsule collection. The Sex With Emily Bundle includes the bestselling Lily Babydoll, Thong and Blindfold set in a sultry rouge. I'm high-key obsessed…and think you will be, too. A special bondage how-to card comes with the set, offering erotic inspo for blindfold play. Psst: use code FLEURWITHEMILY at checkout for 10% off.
The right perfume changes everything. Woodsy, smoky, a little leather – this scent says, "I drink whiskey around bonfires." Rub a little on your neck…or, wherever you'd like a lover to touch. If you're not ready to commit to one scent, try the Le Labo Discovery Set featuring five unisex, soulful scents that walk the line between everyday and luxury. Scent is the sense most closely associated with memory…wear one of these, and become unforgettable in bed (and beyond).  
Hot Picks For Him
Yes Daddy. 
Promescent: The All Nighter Bundle + VitaFLUX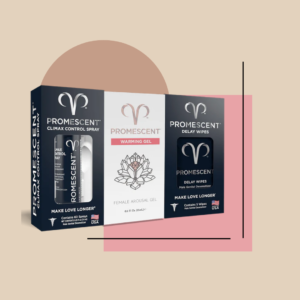 Nothing like a man who comes prepared. (Read that twice.) This thoughtful bundle includes a fast-acting delay spray, delay wipes when you're on the go, and warming arousal gel for partners. Buh-bye, orgasm gap. For longer-term help with erectile dysfunction, Promescent's VitaFLUX supplement is the industry gold standard: three capsules a day improve testosterone levels for a longer, harder pleasure sesh. Enjoy 10% off at checkout, when you click the links above.
This is a weightier prostate massager than most, which can feel really good when inserted. If you want to experiment with blended orgasms, there's an extra arm for perineum stimulation, and I love the fact that the midsection is bigger for a more "full" anal sensation. 
First…let's take a moment to appreciate how cute this is? Second, think of the Tenga Flex as the next level up from hand masturbation: you'll use the same motions, but with the penis inserted, you get to experience all the fun, stimulating textures inside the sleeve itself, along your shaft. Use your finger to cover the hole at the top to create a vacuum, for solo play that feels like oral sex. 
The kit that helps him earn his fire emoji, because the selfies that follow will be abundant. In terms of grooming, it's a head/shoulders/knees/and toes situation that includes balls/nails/hair, too. Plus: it all smells really nice. 
Iconic for a reason, and frankly more style-forward than other house slippers. These have a nice loafer silhouette with a rubber outsole, for early morning jaunts to the coffee shop that don't look completely ridiculous.  
Hot Picks for Her
Give her the goods.
If you've listened to me for thirty seconds, you know I spread the lube gospel – but honestly, Playground is special. Spiked with adaptogens and silky smooth moisturizers, each one is like a mini facial…for your vulva. My personal favorite essence? Mini Escape because there's just nothing better than vacation sex. 
The bath faucet walked so the vibrator could run. Bathtime masturbation = many vulva owner's first masturbation, and riding a wave of TikTok fame, this product helps facilitate exactly that. Just hook it up to the faucet and spread your legs for a pleasure journey that's deeper and slower than you typically get from toys…but housemates will think you're simply taking a bath. 
I love spa visits just like anyone, but let's be real: it can get expensive. And time-consuming. So if you want spa treatments, this nifty product combines five: thermo-therapy, cryo-therapy, LED light, massage and hydration. And somehow, it makes it all happen in two minutes…I suspect sorcery. 
Here's a not-so-fun fact: if you live in a dry space – aka, most temperature-controlled homes and offices – your skin pays the price. That's why I'm in love with this derm-approved humidifier, formulated to fend off fine lines and wrinkles, and help your topical skincare products absorb much better. Also? It comes with a built-in aroma diffuser, is a breeze to clean, and between you and me…it's just cuter than most humidifiers out there. At checkout, use code SWE to get 10% off.
Magic Wand Mini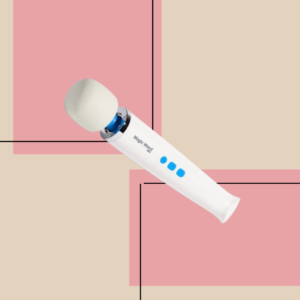 The OG Magic Wand may be the power tool of vibrators, but this petite version packs a serious punch. At nine and a half inches long, "mini" is a relative term, because you're still holding a serious toy in your hand: one with three intensity options, ranging from 3,500 to 6,000 RPM. That's code for "will make you orgasm," and because the head is smaller, you can enjoy more precise stimulation. Best of all? Smaller size = easier to pack in your travel bags. 
Every year I say to myself, "I want my bathroom to look more like a spa," but grungy towels kill that dream pretty quickly. Enter these throws from Parachute, which not only look upscale, but feel dreamy to the touch and dry super quickly. When you're ready for "adult" towels, these are the ones. 
Charlotte Tilbury Super Radiance Resurfacing Facial 
I've tried a lot of face products in my day, but this exfoliator is the one for folks who want their face kissed, stroked, licked…basically, if their goal is smooth skin, this product is it. 
For the Toy Connoisseur 
Everyone's buzzing about these.
This kit is like a vulva owner's all-inclusive pass to multiple orgasms. It's got the Empress 2 clitoral suction vibrator (which feels like the best oral sex of their entire damn life), the Myth G-spot vibrator (for intense internal O's), and the Feelin' Myself Intimate Gel, to make it all go down easy. Hint: use code EMILYBFCM for oh so sweet deals right now – We're talking up to 60% off!!!
If you're new to anal, this is the perfect entry-level toy. A reasonably-sized, vibrating plug, it's an exquisite addition to your existing solo or partner play – and? It's app-connected capabilities allow you to turn each other on, no matter how long distance you are. 
OhMiBod bluMotion NEX1 Wearable Panty Vibrator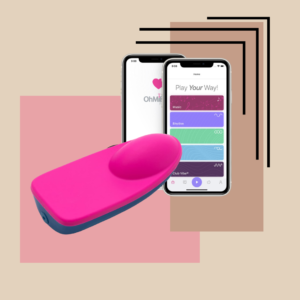 Long-distance playmates can have a blast with this one. An app-controlled wearable vibrator for vulva owners, I like it because it fits comfortably against the body, with comparable power to a handheld toy. It can definitely make your next video chat spicy…or, turn dinner-at-a-restaurant into discreet power play.  
Yo. This is a toy for intermediate/advanced users who want to leave the planet with their next orgasm. Combining sonic wave clitoral stimulation with an in10ternal G-spot massager, it's worth every penny – especially if users want to learn how to squirt.  
For the Playful Lover
Down for a good time.
Pilgrim Soul's Please Use This Journal While You Are High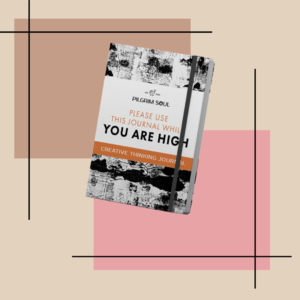 For some people, THC is the ultimate creative ally and arousal conduit: it opens the mind, clears away inhibiting thoughts, and opens a portal to your higher self. That's why this journal is so freaking fun: it's got artistic, thoughtful prompts that take advantage of your brain's plasticity, building new connections between your ideas and your personality. 
We all need jams for sexy time. And this vintage-looking speaker is so cute, you'd never guess it's super high-tech. It turns every spot in the house (like the bedroom) into a proper listening lounge, by separating out the spatial content of stereo recordings. That's code for "music nerds approve." 
We're Not Really Strangers Card Game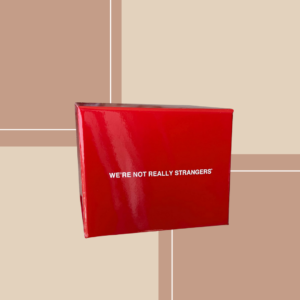 + relationship expansion pack 
IMO, question cards are the thing everyone needs for date night. They prompt conversation, keep everyone off their phones, and help you forge meaningful connections with interesting questions. We're Not Really Strangers is my top pick in this category, with a mix of vulnerable, personal prompts that help people get to know each other…no matter how long they've been together. Speaking of dates: the relationship expansion pack is add-to-cart, with questions about attraction, love, sex and desire. 
Into kink? Then this all-purpose kit is into you. For everything that comes with it, it's very affordable: ball gag to leg cuffs, door swing to bed restraints. Basically, this kit has exactly what you need to establish control and stimulate (or deny) your lover's senses. 
For a sensual, sexual date-in-a-box, look no further than these striking gift sets from Je Joue: a luxury sex toy company taking sex toys out of the dark alley, and into the limelight. Each of the three gift sets (The Naughty, The Nice and Naughty, and The Couples Collection) further that mission, with gorgeous product curation and award-winning toys. For real: The Naughty Gift is nominated for Luxury Pleasure Product of the Year by XBIZ. The Nice and Naughty comes with a G-spot Bullet, with just the right curve to stimulate internal erogenous zones, while The Couples Collection comes with the Mio Cock Ring, outfitted with a clitoral stimulator for partner play. There's tons of fun accessories in these sets, like blindfolds and question cards, but here's the real real on Je Joue: their toys are known for signature rumbles, so that vibrations travel deeper inside the body – giving users INTENSE orgasms. Thank you, technology. Get 30% discount code for all SWE fans with code Emily30.
JIMMYJANE Afterglow Massage Oil Candle
For folks who like erotic massage, I'm constantly recommending these beautiful, body-safe candles. The wax melts at body temperature (making it safe to drip on skin), is super hydrating, and comes in lovely scents: Red Tobacco is my favorite. Perfect for your next sensual night together.  
Sex is messy! Let's not pretend otherwise. That's why I'm so glad a brand finally acknowledged this, and made a sophisticated sex blanket that absorbs body fluids, is soft to the touch, and creates a barrier that keeps your bed dry and spotless. Genius, I tell ya. 
Blue Kazoo Henri Rousseau IV Puzzle
Blue Kazoo's puzzles are motivating to finish, because the final products look like real art. When you're snuggling together on a chilly night, this nude by French artist Henri Rousseau IV is a sexy collab…perfect to partake together, over yummy snacks and a glass of wine. 
For Cozy Times
C'mere, you little cuddle bug.
"Hygee" is the Danish word for "cozy," and I have to assume blankets like these are what the Danes had in mind. Incredibly soft and plushy, there's just one problem with this blanket: you might fight over who gets to snuggle with it. 
Ember Temperature Control Smart Mug
At first glance, you think: a mug that keeps things hot. Yay. But au contraire – this mug is app-controlled, so you can make your tea/coffee, enjoy your first sips, then keep it hot with your phone while you do…whatever. Take a bath. Read a book. Make out. All without running back and forth to the microwave, so you can stay in the present moment and enjoy your beverage at your own pace. (Bc making out can take a while.)
This is a really creative brand that makes candles designed to evoke memories: grandma's cookies, a beach cottage, and so on. Their zodiac candles turn the properties of your sun sign into a literal scent, so that your astrological essence fills the room. The bedroom, perhaps? 
What is it about silk pillowcases that make you feel like a million bucks? The fact that they prevent wrinkles? Are naturally antimicrobial? Or is it simply because they give off fancy hotel vibes? One thing is for sure: gift these sexy pillowcases to literally anyone, and you will be crowned the queen/king of gift-givers. 
Men's Silk Fleur du Mal Robe + Women's Silk Fleur du Mal Robe 
These robes give off major playboy/playgirl vibes, and folks, I'm here for it. The designs are just a touch throwback – think Mad Men meets Penthouse – and feel as silky as they look.
For the Wellness Obsessed Lover
You know what's hot? Self-care.
HigherDOSE Infrared Sauna Blanket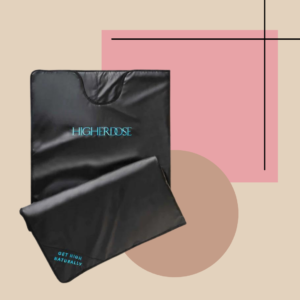 So check it out. You lay under this blanket, while it gives you glowy skin, helps sore muscles recover, burns calories…how? It combines infrared technology with charcoal, clay and magnetic layers to boost your circulation and detoxify your system. I have one, and laying under it is now the most soothing part of my day. 
A deep tissue muscle massage can be exactly the thing to get you back in your body, and ready for sex. But this handheld massage gun is no joke: a next-gen tool for muscle tension, stiffness and pain, it's not only a go-to for athletes. It's muscle therapy that partners can use on each other, for mutual relaxation and healing.
Hydration keeps the mind clear, washes away headaches, makes you feel more energetic overall – all sexy qualities. But these sleek water bottles actually have a lot more going for them than simply holding your liquid: a shaker lid turns them (surprise) into a cocktail kit. 
Breathe Essential Oil Diffuser
Before sex, what do you do? Make the bed? Put on nice music? IMO, scent is the finishing touch, setting the stage for full-sensory sex. This diffuser runs for 18 hours, looks gorgeous, and even has fun light color band options to match your room decor. 
Enjoy giving the gift of pleasure to everyone on your list. Want more sexy goodies? Subscribe to the Sex With Emily newsletter to stay updated with all of our hottest offerings.