On today's show Emily welcomes Jak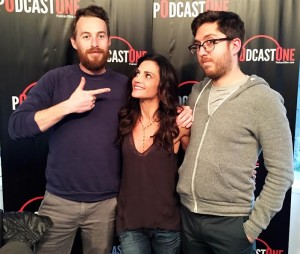 e and Amir, the hilarious BFF's known for their popular CollegeHumor webseries and advice-giving podcast "If I Were You". They provide commentary and a male perspective on a variety of topics, from sex toys to stamina to sexting like a pro, and even assist Emily in answering some listener emails.
But first, Emily gives the sex toy newbies their vibration education. Between the Dua by Je Joue to the wireless Oh-Mi-Bod, Jake and Amir ponder the possibilities of playing the field via bluetooth sex toy technology. Emily and the guys share their own experiences with sex and dating in Los Angeles, and discuss the importance of keeping your independence while in a relationship.
Then it's on to your emails! Emily and her guests help a listener draw the line between dirty and degrading bedroom conversation, and gives a lesson in sex toy etiquette to a single man with multiple partners.
If you've ever wanted to step up your verbal seduction but don't know where to start, get ready for a crash course in Dirty Talk 101. Emily gives advice for a listener looking to improve her sexting game, and Jake weighs in with his texting expertise. Talking dirty is like a dance — Jake, Emily and Amir are here to teach you the moves.
This show provides a random (but funny) array of sex and dating tips that will both amuse and advise you. Don't miss it!
Can't get enough SexWithEmily?
Subscribe on iTunes and never miss your bi-weekly Sex With Emily podcast…
Special discounts for listeners of Sex With Emily:
Use coupon code GVEMILY20 for 20% off at Good Vibrations and coupon code EMILY for 20% off my Aromatherapy Massage Candle and DownUnder Comfort at Emily& Tony.
Go to Promescent to make love longer.
Increase your stamina with the #1 selling sex toy for men, Fleshlight. Use code: Emily to get a FREE bottle of Fleshlube with your purchase.
Save 10% off beautiful high-quality sex toys at Je Joue when you use code: Emily
Stop by Hustler Stores in Hollywood or the closest store near you for all your kinky needs- Don't forget to mention "Sex With Emily" at the counter for 20% off your purchase.