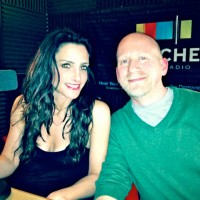 The male G-spot is the prostate. Yes, men have a G-spot too and it's in their butt. The time has come to leave your fears behind, and go on an adventure through the backdoor.
My guest Charlie Glickman, author of The Ultimate Guide to Prostate Pleasure: Erotic Exploration for Men and Their Partners, explains how to pleasure the prostate, from finding it to stimulating techniques.
Don't pooh-pooh the idea of prostate pleasure before you try it. Have an open-mind (and an open behind). If men stopped resisting everything they think challenges their masculinity, they could experience a lot more pleasure. Plus, a dude who's actually secure with himself and his sexuality won't be worried if something he's doing is considered manly or "straight" enough.
Special Discounts for listeners of The Male G-Spot:
Use coupon code EMILY for 15% off at Good Vibrations. Use coupon code EMILY25 for 25% off at crazygirlproducts.com, and coupon code EMILY for 20% off my Aromatherapy Massage Candle and DownUnder Comfort at Emilyandtony.com. Also, check out my new vibrator store: www.sexwithemilyovo.com/!